Tīkapa Moana / Hauraki Gulf is a huge national taonga, covering an astonishing 1.2 million hectares making it twenty times larger than Lake Taupō.
Dotted across these heavenly waters are a compelling collection of more than 50 islands, each with its own unique character, and several of them perfect for visiting during summer.
To help you decide which motu (island) suits you best, here are two enchanting options to whet your appetite for exploration.
Aotea / Great Barrier Island
The largest of all the gulf islands, Aotea / Great Barrier is completely off-grid and bursting with natural beauty. To get there, choose between a scenic 30-minute flight, or a similarly scenic four-and-a-half-hour ferry ride, where you'll most likely be accompanied by dolphins.
On arrival, you'll find Aotea to be a world away from the hustle and bustle of city life, even though it's still part of Auckland. With miles of pristine coastline and abundant native bush, this island is loved by bushwalkers, birdwatchers, photographers, and holidaymakers alike.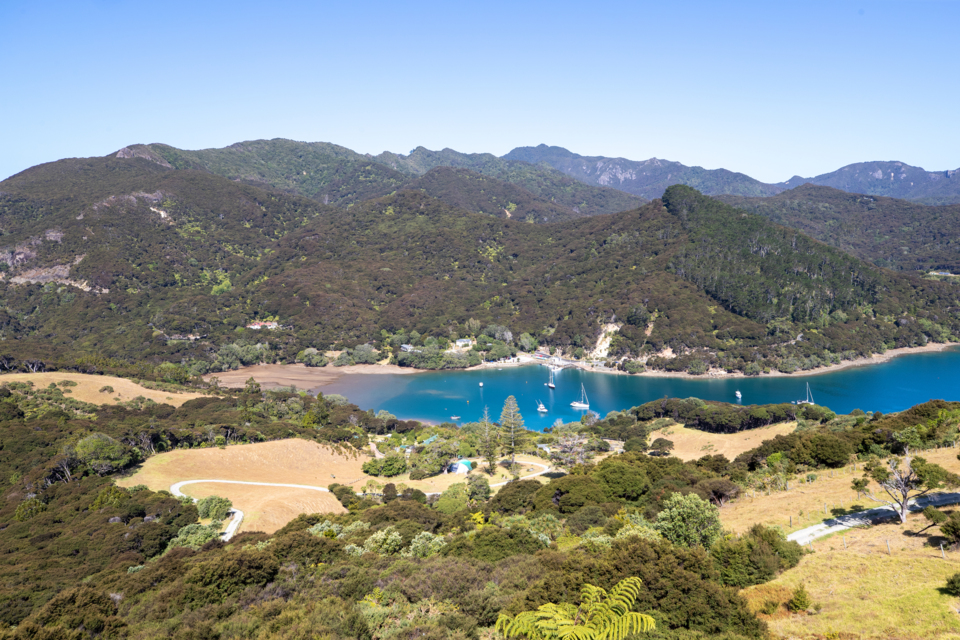 Everyone raves about the 3.5km Whangapoua Path, a gentle climb through regenerating forest with exceptional views. And the hike up through Windy Canyon offers some of the best vistas in the whole region. If you're feeling adventurous and you're prepared, follow Palmers Track all the way to the top of Hirakimata / Mount Hobson, the highest point on the island.
A visit to Glenfern Sanctuary Regional Parkland makes for another inspiring day trip. Spread over 83 hectares of predator-free forest, the wildlife is flourishing, and the bush tracks – including a swing bridge to an ancient kauri – offer visitors a glimpse of paradise.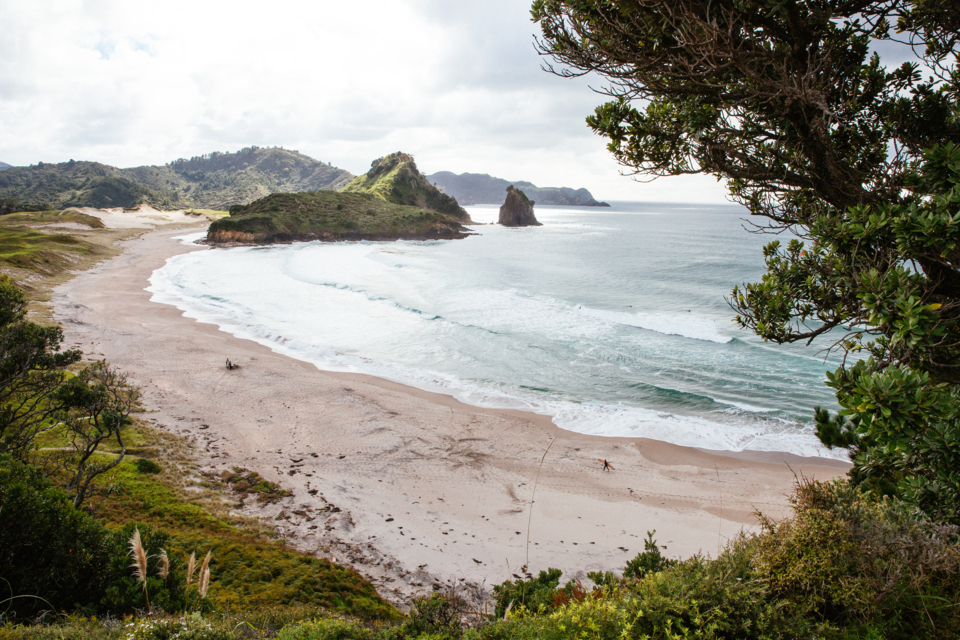 Stargazing on Aotea is out of this world because there is so little light pollution. In 2016, the island was granted Dark Sky Sanctuary status, and there are various tours available if you want to learn more about the night sky and capture some stellar photos.
There are numerous swimming spots on Aotea, from mermaid pools at Medlands Beach to the healing waters of Kaitoke Hot Springs. There's plenty of surf too, with some winning waves found at Whangapoua, Awana and Medlands.
When it's time to rest, you have 12 campsites to choose from, plus plenty of other accommodation options, including two bookable houses at Glenfern Sanctuary.
Whether you fly and hire a car, take a vehicle over on the ferry or explore the island by bike, you're sure to have the holiday of a lifetime on Aotea.
Waiheke Island
Waiheke is the second-largest gulf island, and arguably the most well-known. It's a popular choice for weddings and weekend getaways, not to mention the beautiful beaches. Whether you're wining and dining, walking, swimming or just plain relaxing, Waiheke has something for you.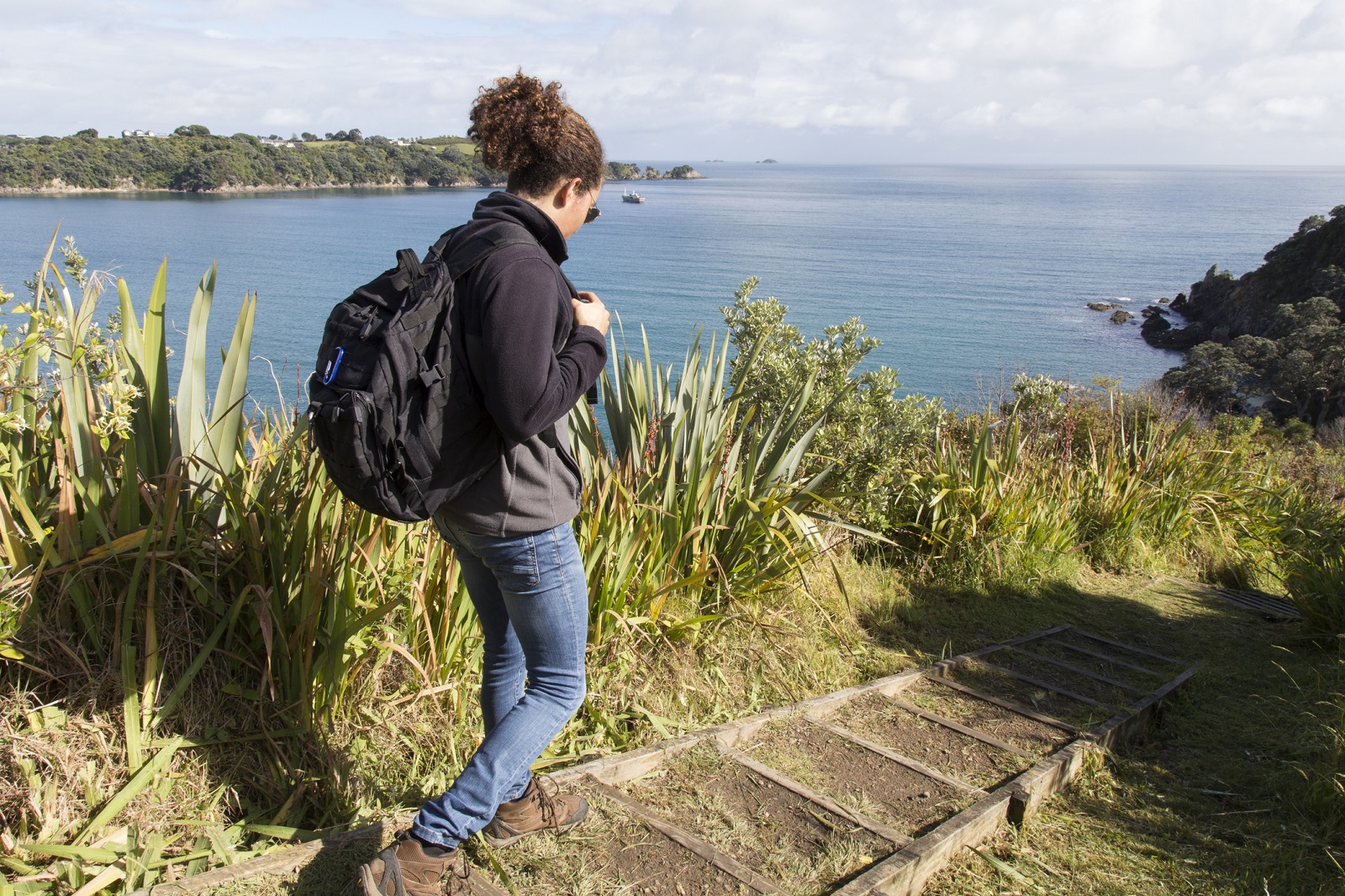 How about a pleasant wander along one of the many trails of Te Ara Hura? Lovingly maintained by Auckland Council, this network of paths covers a total distance of around 100km, with everything from gentle strolls to challenging treks, allowing intrepid explorers the opportunity to explore all across Waiheke. Matiatia Headland Path is a charming coastal ramble, and the recently upgraded Island Bay track offers spectacular views across the gulf. If that feels too energetic, why not just pick the beach that suits you best – Onetangi, Palm Beach or Little Oneroa, to name a few – and relax the day away.
Arts and culture are thriving on Waiheke. Find out what's on at Artworks Theatre or Waiheke Community Art Gallery, or even stop in and say, kia ora to some of the local artists who open their studios to visitors.
Te Korowai o Waiheke definitely deserves a mention too. Supported by Auckland Council, it is an organisation doing a fine job of ridding the motu of pests, and as a result, the birdlife is booming.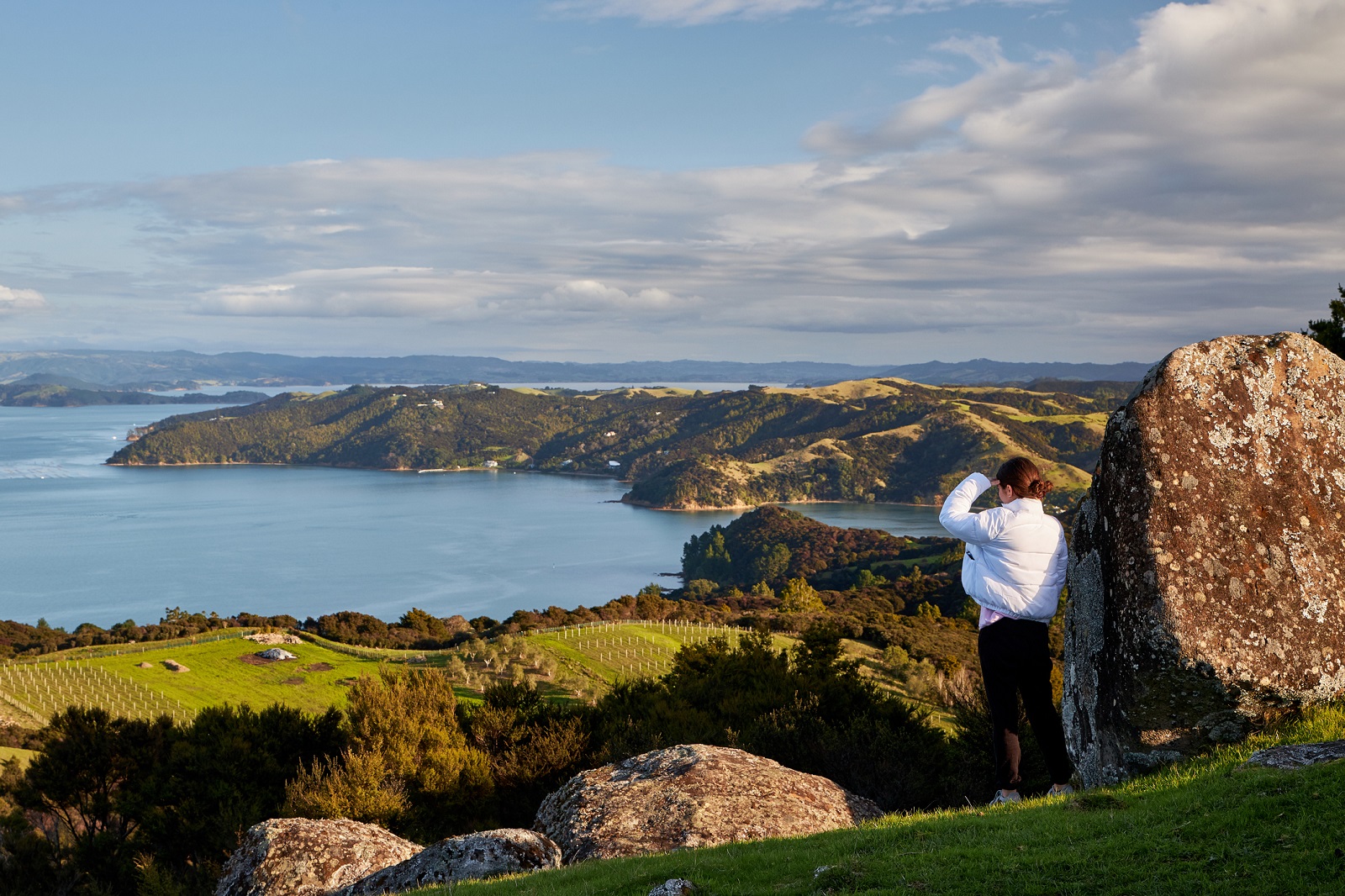 Whakanewha Regional Park is a stunning spot if you're looking for somewhere to stay. Home to one of Auckland's finest council-run campgrounds, it is a great place to pitch the tent or park the self-contained motorhome. Alterntaively, check out Waiheke Backpackers Hostel in the heart of Onetangi, right above the beach.
Visit aucklandcouncil.govt.nz/holidayplaces for more options. Book your trip soon – Waiheke is waiting to steal your heart.
Prioritising protection
When visiting the Hauraki Gulf islands, make sure you're considerate of conservation efforts and follow the 'pack in, pack out' guidance. This means you must take your rubbish home with you. There are limited waste facilities on these islands, and some don't have a rubbish service at all. If you carry something in, it's required that you take it out.
It's also vital to check your gear for pests – including daypacks, camping equipment, picnic hampers, shoes, and vehicles – and keep any food in sealed containers to prevent insects and rodents hitching a ride.
Pest Free Hauraki Gulf is a joint initiative between the Department of Conservation and Auckland Council, who work together to protect the gulf islands from pests. To make their job easier, always give your shoes and boots a good scrub and spray to prevent the spread of kauri dieback. Check footwear and clothing for any seeds while you're at it.
Thanks must also go to the dedicated pest-detector dogs for the work they do when there's been a predator breach. Visit tiakitamakimakaurau.nz for more information.
Volunteers are always needed for guiding, planting and weeding on Tiritiri Matangi, Motutapu, Te Motu-a-Ihenga / Motuihe Island, Kawau and Motukorea / Browns Island. Helpers are welcomed with open arms, so join in and give back to nature.