Taurima – a new series of light installations in Elliott Street – is expected to become a Matariki Festival must-see - partly because the crochet-like neon artworks floating above the street are spectacular, and partly because they uncover the street's long culinary history.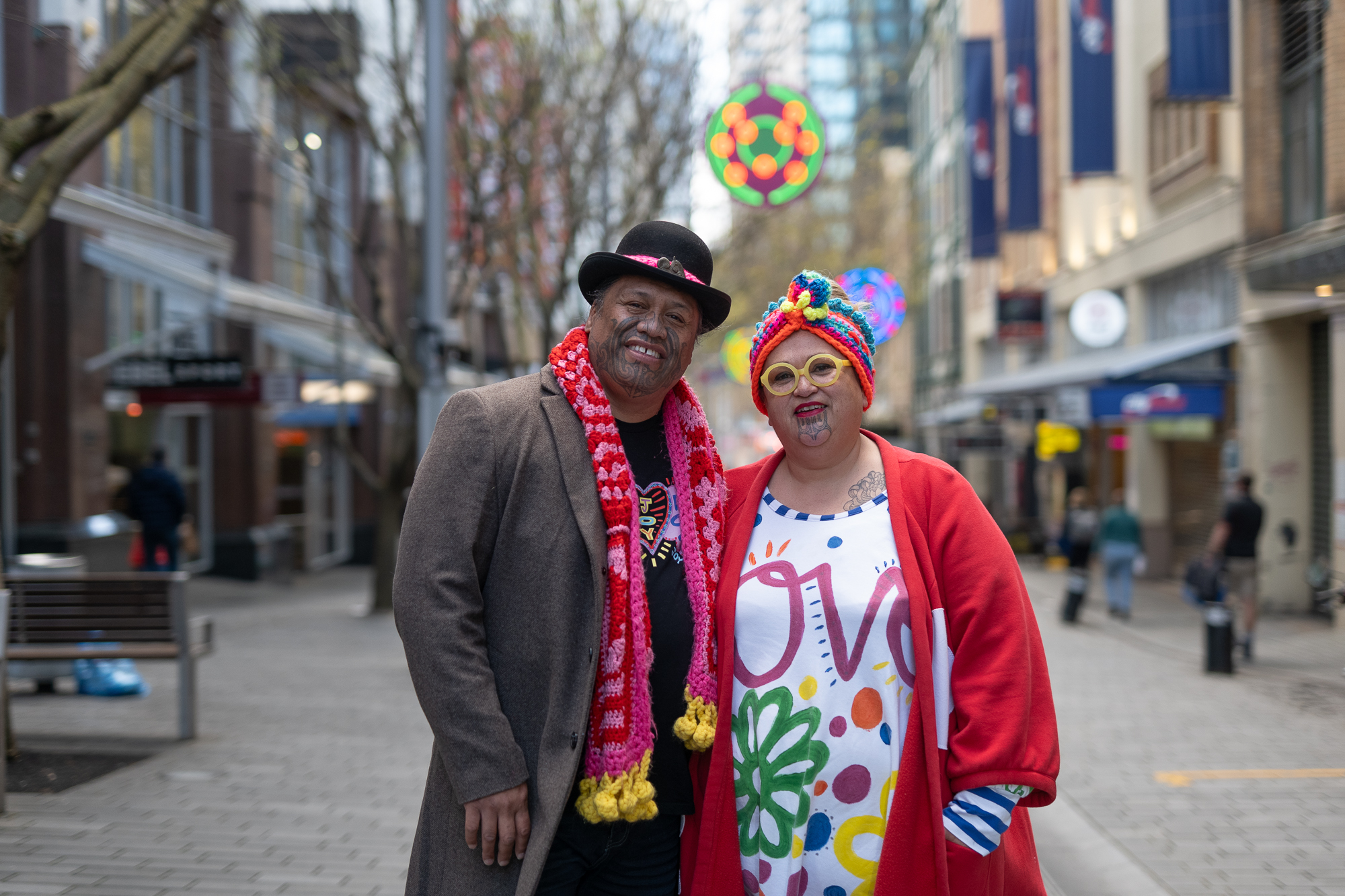 Aucklanders and visitors will see pātaka kai / food storehouse symbolism suspended above the street in quirky fluoro-neon art created by Lissy Robinson-Cole (Ngāti Kahu and Ngāti Hine), Rudi Robinson-Cole (Waikato, Ngaruahine, Ngāti Pāoa, Te Arawa), Ataahua Papa (Ngāti Korokī Kahukura, Ngāti Mahuta), and Angus Muir Design.
Waitematā Local Board Chair Genevieve Sage spoke at the opening.
"This significant artwork reminds us of the way Ngāti Whātua Ōrākei has extended care and generosity in this place for a long time; that manaakitanga is at the heart of this kaupapa.
"Taurima enables Aucklanders and visitors to learn about the deep history of this area - once abundant with kai, and still a popular eat street in 2023. They will look up to see the colourful series of fluoro-neon art pieces, each with its own meaning and alignment to the story of this place; also helping shine new light on Elliott Street for those who are here now.  
"This temporary work of art will be up until October, and will return for many more Matariki Festivals to come. These works are designed to be re-deployed within the city centre, with support from the city centre targeted rate, creating useful and enduring taonga for the future.
"There's another good reason Auckland Council is investing energy here. This is midtown - an area at the heart of a significant shift in the way people will travel into, out of, and through the city once the City Rail Link opens. The Auckland Council group's regeneration of midtown will be a catalyst for growth, productivity and a vibrant arts and cultural heart of a healthier and more sustainable city centre," she says.
Taurima marks the street's origins in hospitality. In 1987, archaeologists found Elliott Street was likely to have been a place of gathering food all along. They found evidence indicating people have harvested and provided food here for the best part of 500 years.
Excavations found 3 ketu / wooden digging sticks once used as gardening tools, fragments of harakeke / flax for weaving, fragments of other wooden tools, and a shell midden.
Radiocarbon-dated hīnau berries from the midden pointed to the influence of early Māori settlers in the Waihorotiu valley around AD1400 to 1530.
Source of this archaeological history here.
500 years ago and equally in 2023, welcoming manuhiri / visitors to your takiwā / region is central to the role and responsibility of tangata whenua.
At the heart of this manaakitanga / hospitality and welcoming is knowledge of your whenua / land and moana / sea. That knowledge allows you to sustainably manage your resources and to extend care and generosity for all who have cause to visit.
One definition of the term Taurima is to treat with care. Taurima expresses this philosophy as part of Matariki ki te Manawa – Matariki at the heart - part of Matariki Festival.
Matariki is a season of celebrating and expressing the functions of sharing kai / food, but also to celebrate the special native and natural kai of Tāmaki Makaurau. You are invited to celebrate Elliott Street's origins and its current eat street vibe this Matariki season - from street eateries to a bakehouse to underground restaurants to late-night hospitality.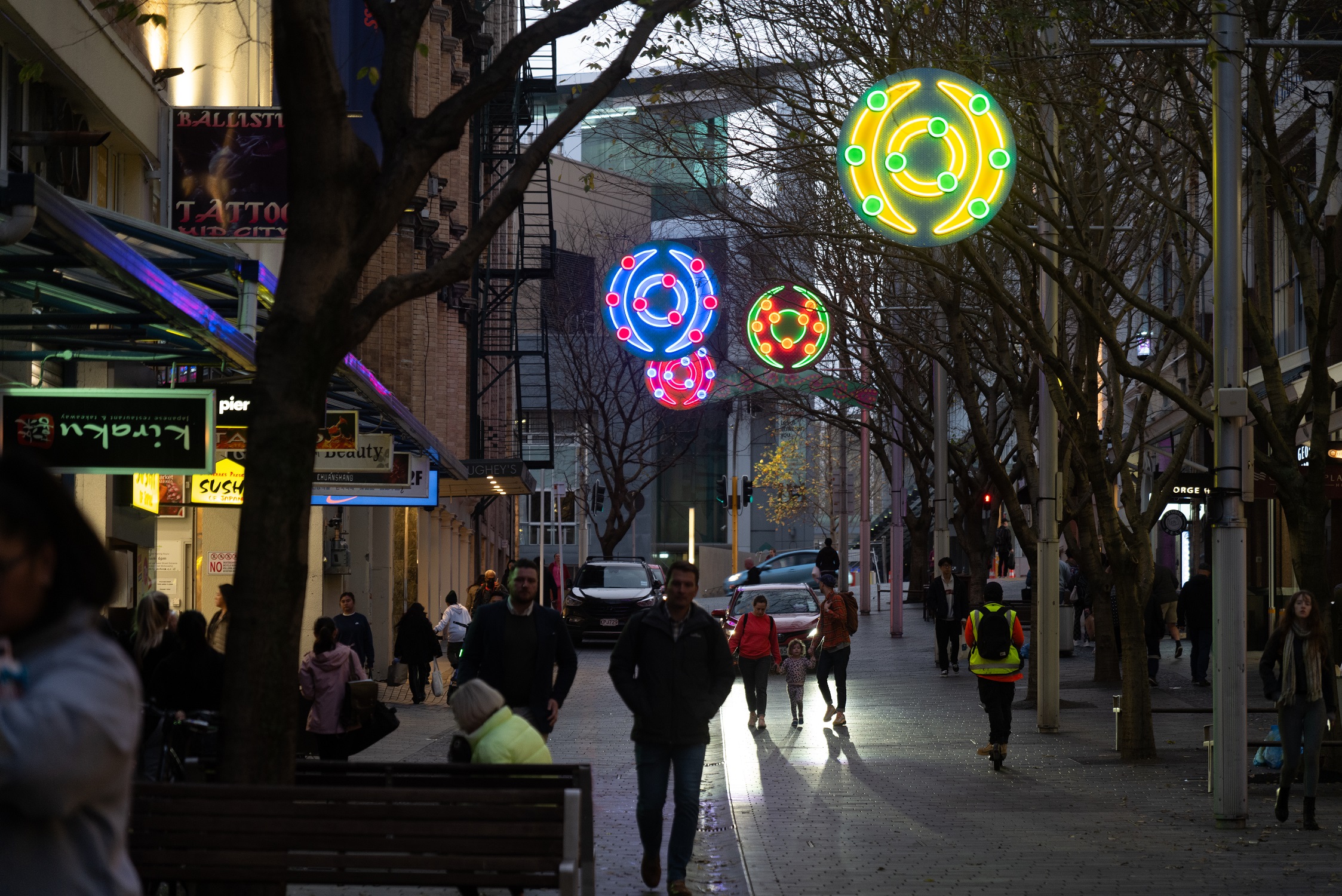 From 11 to 22 July, Matariki Festival will fill Tāmaki Makaurau with learning experiences, lighting splendour, storytelling, kōrero, music, art and much more. The Taurima installation will be up in Elliott Street until October, bringing history full circle.
Iwi manaaki Ngāti Whātua Ōrākei with Te Kaunihera o Tāmaki Makaurau / Auckland Council, supported by the city centre targeted rate, are delighted to bring Matariki ki te Manawa to the city centre. Check out the highlights you can experience in the city centre here. Experience Tūrama in Queen Street.
Some of the activations for Matariki ki te Manawa are traditional; others are contemporary; all are deeply felt as we immerse ourselves in Te Ao Māori / the Māori worldview and celebrate this special time of year.
See the full festival line-up at matarikifestival.org.nz and search for Taurima. 
Tāmaki kainga ngā ika ngā wheua
Tāmaki so rich in abundance, you can eat the fish bones and all