Look towards the sky this Matariki season.
You'll see distant stars in the morning sky, kites flying overhead and illuminated city streets, through new eyes and with new understanding.
Māori encourage us to look skywards and appreciate the upper realms during Matariki. The tradition draws from centuries of studying the rising and setting patterns of the stars, sun and moon, navigating the oceans and reading the year ahead.
From 11 to 22 July, Matariki Festival will fill Tāmaki Makaurau with learning experiences, lighting splendour, storytelling, kōrero, music, art and much more.
Iwi manaaki Ngāti Whātua Ōrākei with Te Kaunihera o Tāmaki Makaurau / Auckland Council are delighted to bring Matariki ki te Manawa to the city centre again.
A mid-winter celebration which is unique to Aotearoa New Zealand, the Matariki season asks us to look back and remember those who are no longer with us, celebrate the present and plan for the future.
Here are some highlights you can experience in the city centre. Some are traditional; others are contemporary; all are deeply felt as we immerse ourselves in Te Ao Māori / the Māori worldview and celebrate this special time of year.
See the full festival line-up at matarikifestival.org.nz and search Matariki Festival events via our interactive map.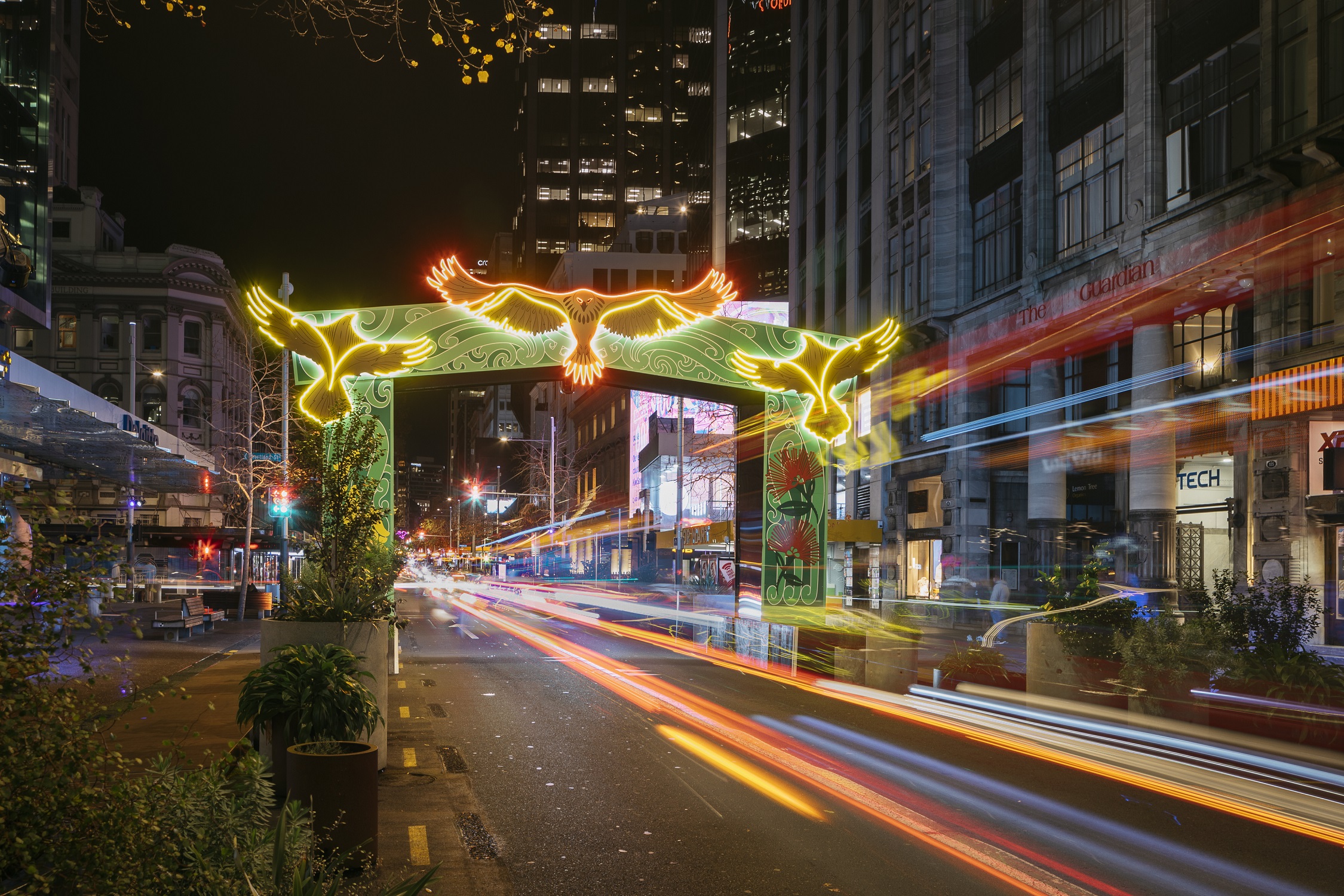 City centre lights up with stories of place
With the whāriki / welcome mat laid out and the city centre illuminated in colour, Matariki ki te Manawa - Matariki at the heart – will begin. From 11 to 22 July, experience the manaakitanga of Te Pokapū Tāone, our city centre, and witness authentic tangata whenua stories of place and space, brought to life in a contemporary and inclusive way. 
Don't miss Tūrama, the award-winning, smash-hit lighting spectacle launched last year during Matariki Festival. A waharoa / gateway marks the place where the land once met the sea in Queen Street, manu / birds fly overhead and a chorus of birdsong can be heard. Tūrama will be up in Queen Street until 20 August.
Learn more here and watch artist Graham Tipene (Ngāti Whātua, Ngāti Kahu, Ngāti Hine, Ngāti Hauā, Ngāti Manu) withTūrama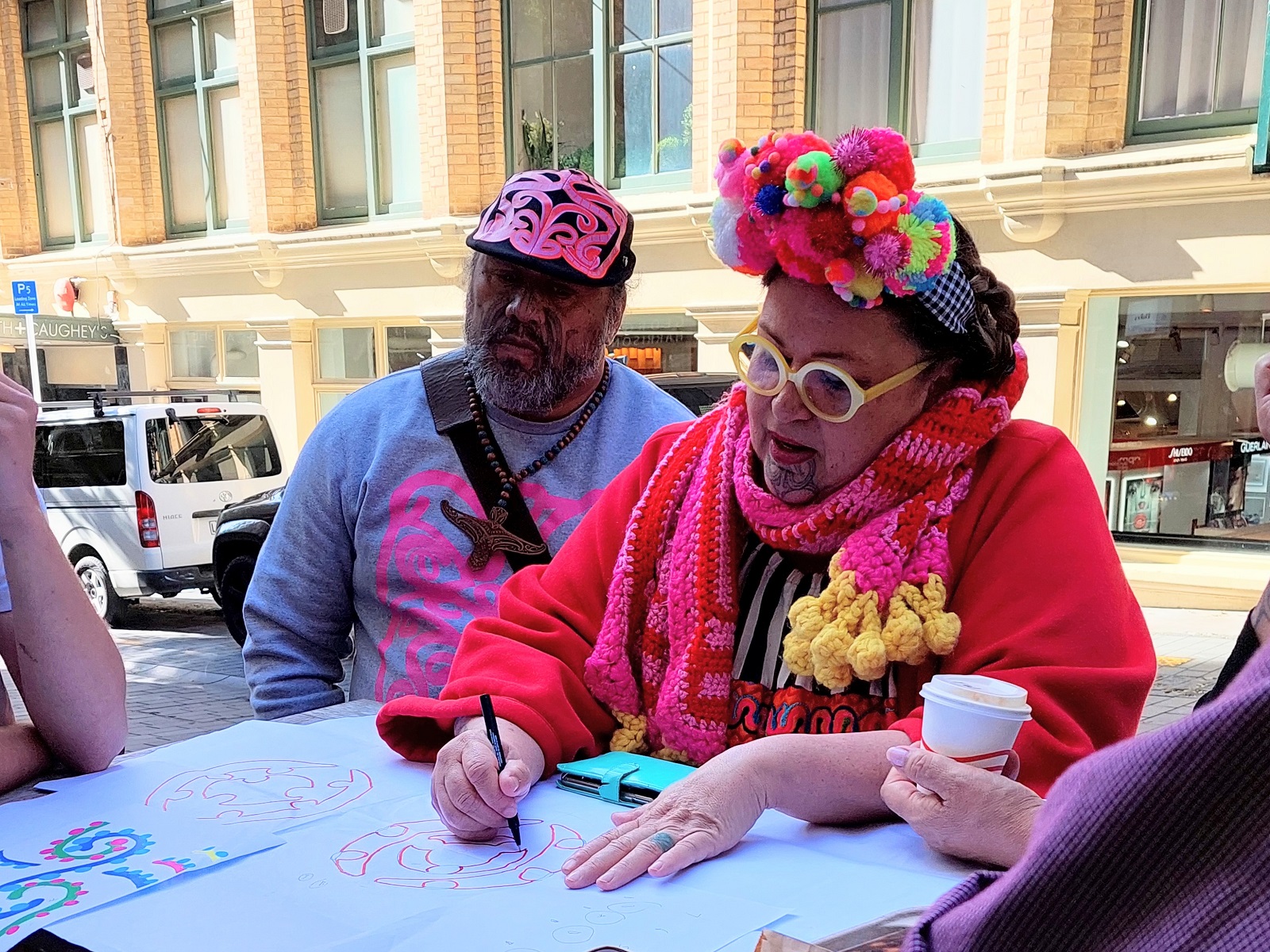 Fluoro-neon art brings Elliott Street's history to life
Expected to become a Matariki Festival super-highlight, check out Elliott Street and discover Taurima. Pātaka kai / food storehouse symbolism will be suspended above the street in beautiful fluoro-neon art. Taurima is a collaboration between Lissy Robinson-Cole (Ngāti Kahu and Ngāti Hine), Rudi Robinson-Cole (Waikato, Ngaruahine, Ngāti Pāoa, Te Arawa), Ataahua Papa (Ngāti Korokī Kahukura, Ngāti Mahuta), and Angus Muir Design. It marks the street's early origins and 'eat street' vibe.
Taurima will be up in Elliott Street until October.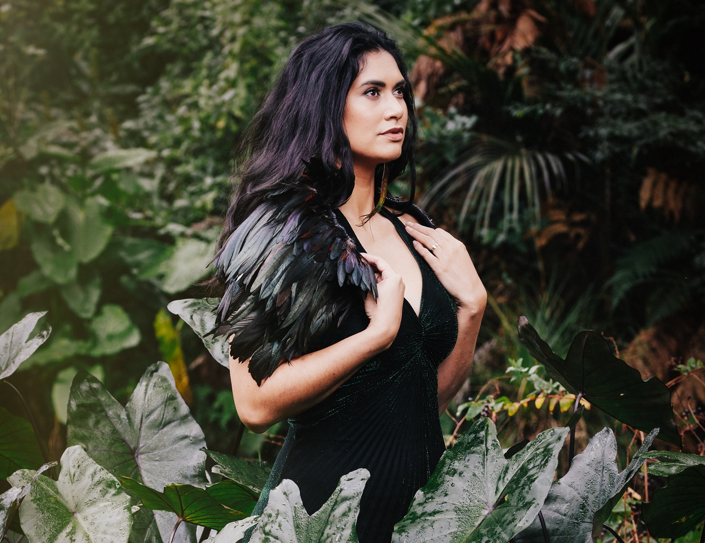 Mellow sounds of jazz and waiata in midtown
After consultation with event partners, it has been decided that performances in our Matariki ki te Manawa pop-up music series – Horotiu – in Queen Street and Elliott Street will be cancelled over the final three evenings. Please visit matarikifestival.org.nz for details of other events. 
Don't miss this newly created pop-up music series called Horotiu, remembering the iconic Waihorotiu stream flowing beneath the pavements. For two weeks on Thursday, Friday and Saturday evenings (5.15 - 6pm and 6.15 - 7pm) from 13 July throughout the festival, contemporary Māori and Pasifika artists will thrill midtown audiences with live music and waiata in Queen Street. Artists Allana Goldsmith (Ngāti Porou, Ngāi Tai), HINA (Te Rarawa; Ngāti Raukawa), and others are expected to pause the city centre's hustle and bustle for a moment of celebration as part of Matariki ki te Manawa.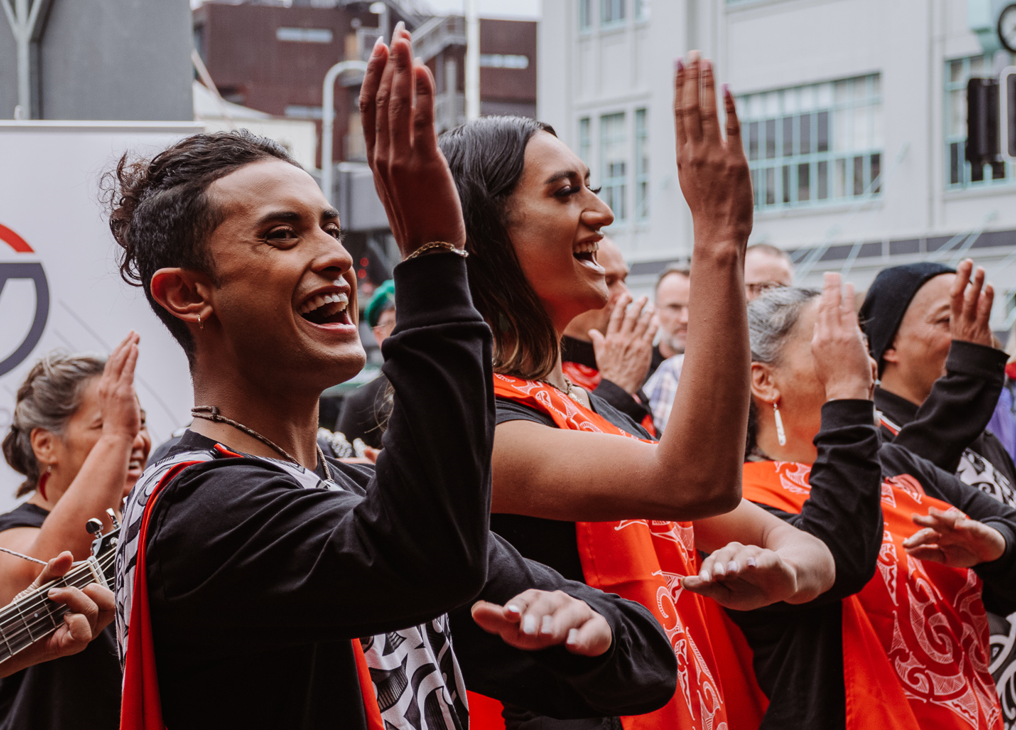 Karangahape Road, a kaleidoscope of colour
Head to Karangahape Road and join the popular Te Karanga a Hape street party on 13 July with a line-up of music, art, kai and new street design remembering the tūpuna / ancestors and Māori adventurers who walked this ridgeline hundreds of years ago.
This year's event theme is He Ara Matarau / Pathway of Diversity, which celebrates the kaleidoscope of cultures, identities, colours, sounds, flavours, unforgettable sights and sensory delights that combine to create the iconic, all-inclusive thoroughfare we love, Karangahape Road. Party starts at 3pm on 13 July, the eve of the Matariki public holiday.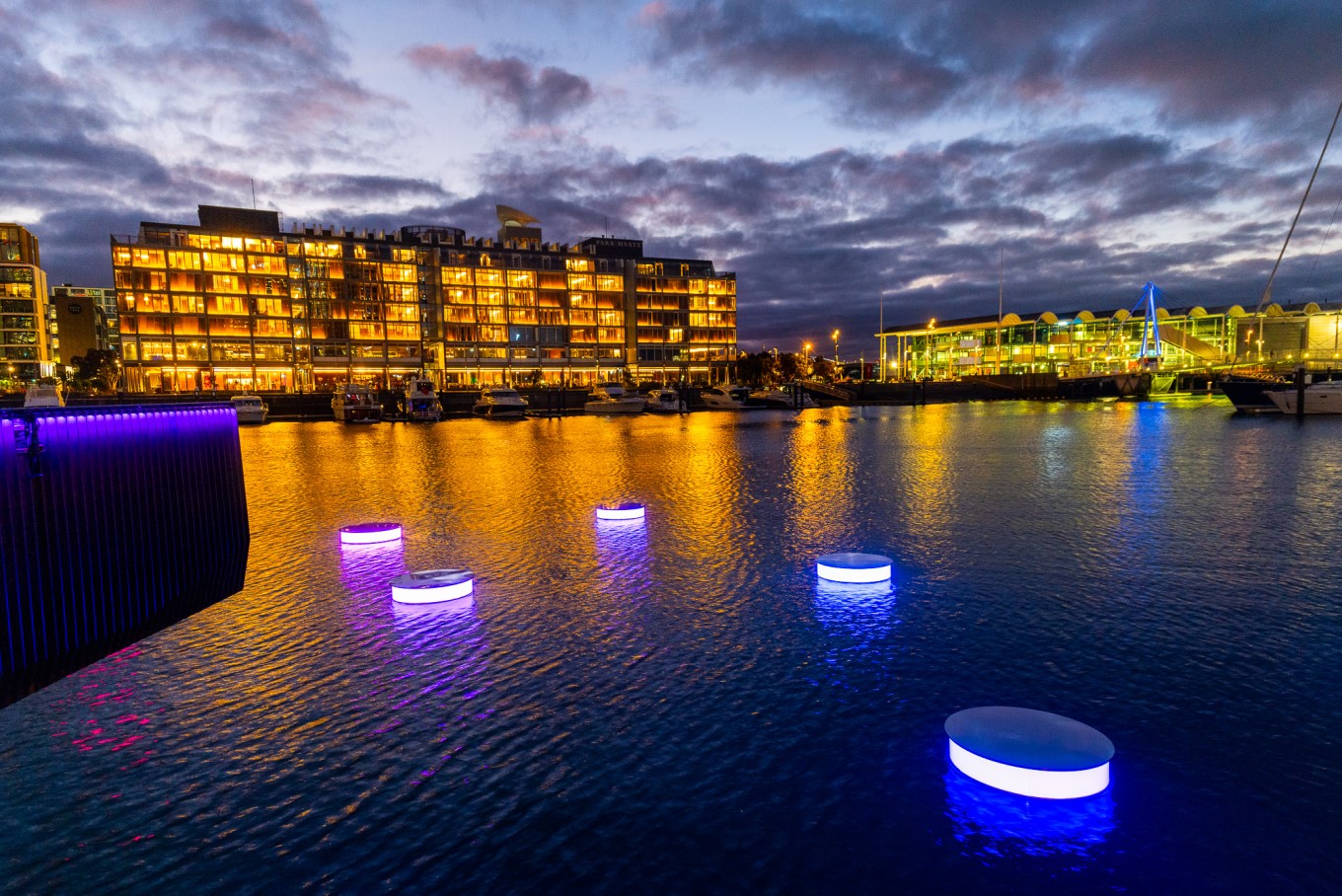 Illuminations, stories and music inspire waterfront
Head towards the sea and explore activations along the waterfront.
Conceived by creative director Tuhirangi Blair (Ngāti Whātua, Ngāi Tūhoe, Ngāti Awa) - in collaboration with Pōneke-based music producer Riki Pirihi (Ngāti Wai, Patuharakeke, Ngāti Māhanga Hourua) and installation artist Angus Muir - this immersive experience will be accessible to the public from 7 to 23 July via Te Mata Topaki, the waterfront lookout structure at Waitematā Plaza, 117 Customs Street West.
At 6pm and 8pm each night, a bespoke soundtrack created by Riki Pirihi for Matariki will be played through speakers on the viewing platform of Te Mata Topaki, as part of a captivating audio visual show synchronised with lighting.
There'll be kai, exhibitions, lunch-time performances of kapa haka in Britomart's Takutai Square and Te Tomokanga ki te Pō by artist Graham Tipene (Ngāti Whātua, Ngāti Kahu, Ngāti Hine, Ngāti Hauā, Ngāti Manu) will be visible every night during the festival at Silo Park.
On 22 July, don't miss Matariki on the Waterfront at Silo Park. Iwi manaaki Ngāti Whātua Ōrākei will join the celebrations as Ahi Kā, keepers of the fires of Tāmaki.
Hikaia ngā ahi o Matariki
Hikaia ngā ahi o Te Kahu Tōpuni o Tuperiri 
Light the ceremonial fires of Matariki
Light the ceremonial fires of Te Kahu Tōpuni o Tuperiri