Little penguins/Kororā in Piha are being given every chance of thriving on the iconic west coast beach thanks to the combined conservation efforts of the Piha community and Auckland Council.
Twenty roost/nest boxes have been installed along North Piha beach area in the hope that this taonga (treasure) may find a place to be able to safely roost and potentially breed.
The boxes, paid for through the Natural Environment Targeted Rate, were painted by the Piha Community Pre-school before being installed, and Council's Regional Parks team assisted in transporting the boxes along the beach to their designated sites.
While the national population of little penguins is declining, they appear to be gradually recovering along some areas of Auckland's west coast. This encouraging trend was noticed by the Piha NZ Dotterel Minders and Council environmental contractors, who have observed more penguin signs including footprints while conducting pest control and other conservation related activities there for NZ Dotterels.
Waitākere Ward Councillor Shane Henderson says, "I'm pleased to see more penguin activity in our neighbourhood and this is a reminder that we need to better protect them from predators.
"We're proud to support this community-driven project with more and more people coming on board."
Little penguin, the world's smallest penguin species, measures just over 25 cm in height and weighs about 1 kg.
This project was a collaboration between Auckland Council, Forest and Bird, Piha NZ Dotterel Minders and Piha Community Preschool.
Why they come ashore
Adult little penguins come ashore between May and June to prepare nests. They may waddle up to 1.5 km from the sea and climb 300 m to find their chosen nest site.
Traditional nests are usually in underground burrows, under dense vegetation, in natural root/rock crevices, between rocky stacks or even in caves. Since people came onto the coastal scene, little penguins have also taken to nesting under houses and boat sheds, in stormwater pipes or other places such as stacks of timber.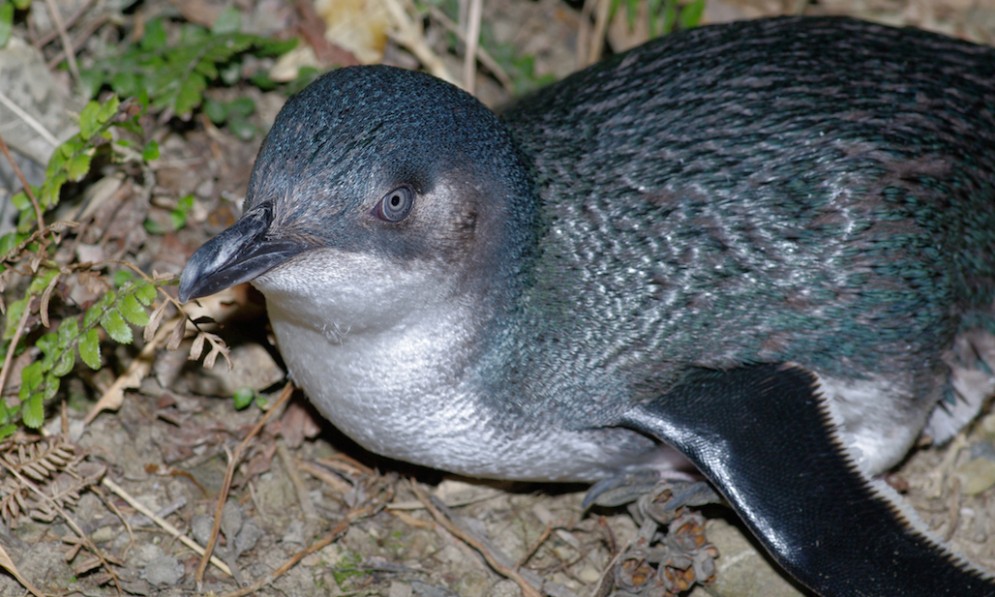 A little penguin (kororā) on Maud Island. Credit: Kimberley Collins Creative Commons
Adults also come ashore to shed their feathers and grow a new waterproof coat. This is known as the moult period which lasts about two weeks between November and March. The penguins are especially vulnerable at this time as they cannot swim and don't venture out from land to sea until they have moulted and are waterproof again.
Keep our penguins safe
Follow local beach bylaws, particularly those pertaining to dogs.
Leave little penguins alone. Usually, any scruffy birds encountered are simply moulting.
Keep your dog on a leash or preferably away when around known penguin areas.
Keep your dog away from nests, penguins or any encountered wildlife.
Stay up to date
Want to stay up to date with all the latest news from your area? Sign up for Waitākere Ranges Local Board's E-News and get the latest direct to your inbox each month. You can also connect with us on Facebook.