On 19 September 1893, New Zealand made history by becoming the first self-governing country to grant women the right to vote in parliamentary elections.
This great leap forward for gender equality was a result of decades of tireless activism by suffragettes across the country who fought for the women's rights to vote and shaped the future for women across the motu / country.
In Auckland, influential wāhine / women such as Kate Sheppard, Mary Ann Müller and Meri Te Tai Mangakāhia, among others, led the charge for women's suffrage.
130 years later, Auckland Council encourages all to celebrate the suffragette movement's enduring legacy with a variety of public art pieces, exhibitions and events that pay tribute to the fearless advocacy of our suffragettes.
Immerse yourself in the rich history of women's empowerment with a trip to thought-provoking artworks across Tāmaki Makaurau that serve as a tribute to the suffrage movement and the progress we've made as a society, as well as a beacon of hope for things to come.
1001 Spheres
Head to Monte Cecelia Park in Hillsborough to marvel at 1001 Spheres, a new piece of public art dedicated to gender equality in New Zealand.
This interactive stainless-steel sculpture references a quote from Kate Sheppard: "We are tired of having a 'sphere' doled out to us and of being told that anything outside that sphere is 'unwomanly'".
Created by artist Chiara Corbelletto, the sculpture celebrates the contribution of women in all spheres of life and is an expression of infinite possibilities.
Bring the tamariki / children along to interact with this incredible piece of art to create conversation on the enduring impact of the suffrage movement, and a powerful call to continue the fight for equality in all its forms.
Beacon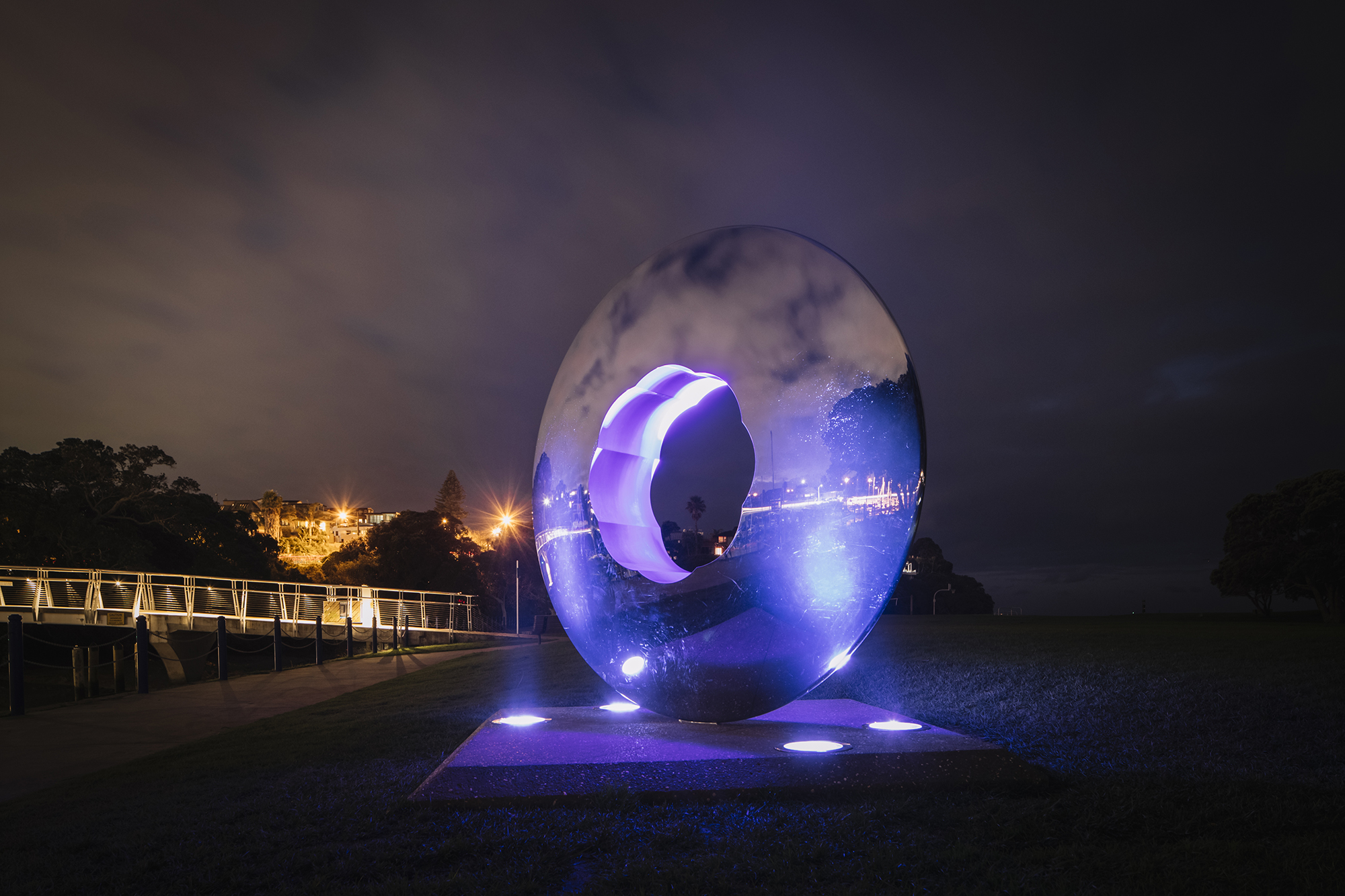 Created by Lang Ea, Beacon is an award-winning, circular sculpture in polished stainless steel that reflects the historical achievements of the suffrage movement while lighting the way for women of today.
Beacon honours the chosen violet colour adopted by the suffrage movement to represent dignity and self-respect with a violet-hued reflection at its camellia-shaped centre capturing light during the day. The colour-theme continues as a gentle violet light illuminates the sculpture from dusk until 10pm each night.
See how this incredible piece of art plays with light, colour and reflections at Milford Reserve.
Murals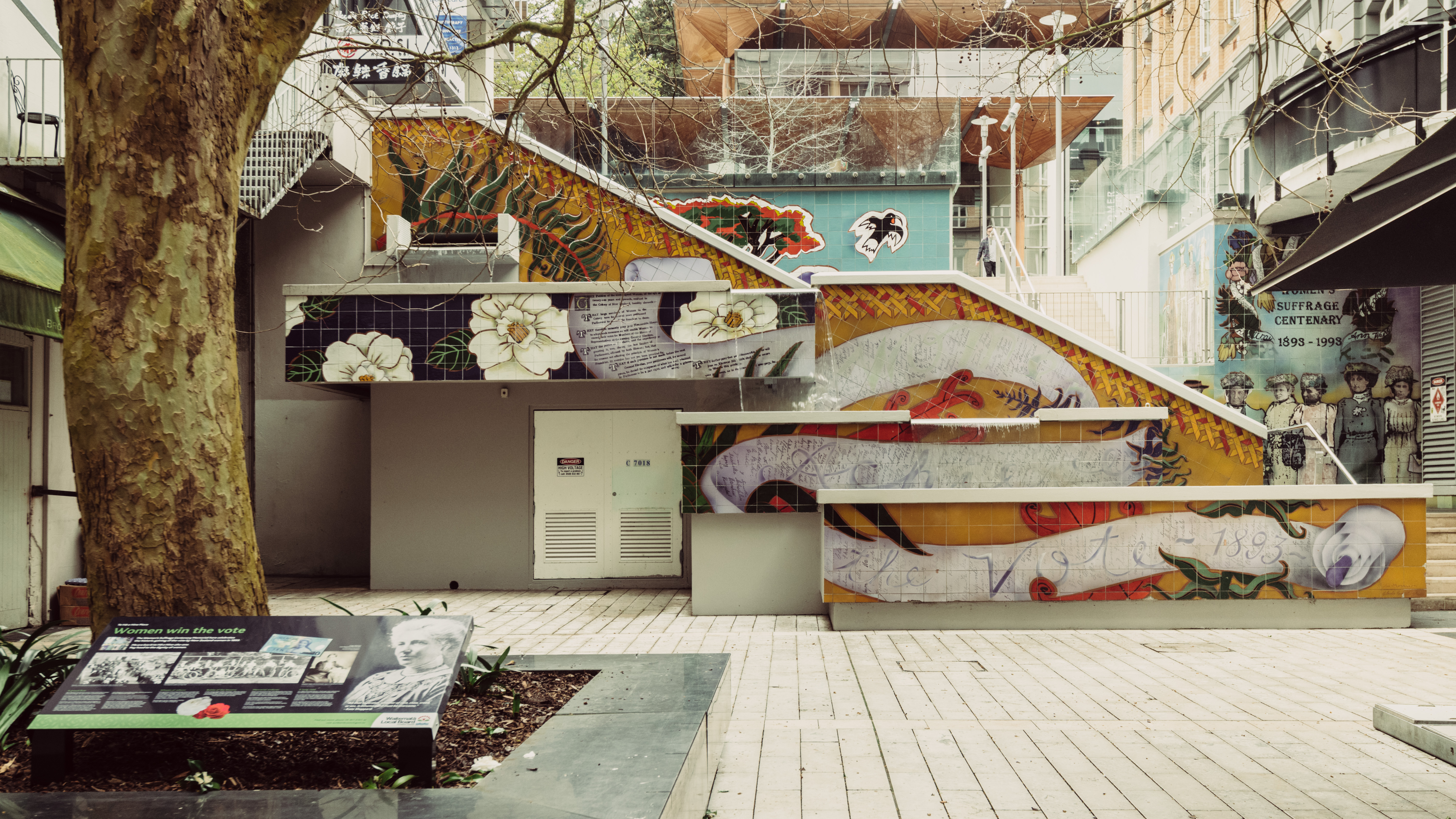 On 19 September, there's no better place to be than at the iconic Women's Suffrage Mural by Jan Morrison and Claudia Pond Eyley for a special Suffrage Day event (more details below). 
Created in 1993 to mark the centenary of women voting, the mural is made up of 2,000 coloured tiles mounted onto the sides of Te Hā O Hine Place stairs as 12 separate mosaic panels in central Auckland.
Or head west to see Sally Griffin's The Suffrage Memorial Murial of New Lynn, a modernist-style mural featuring some of the heroes of the suffrage movement – Amey Daldy, Harriet Morrison, Kate Shepperd, Meri Te Tai Mangakāhia, and more.
Events
Suffrage 130 is being celebrated across the motu! Here are some Auckland events to help you get into the suffragette spirit.
Join the National Council of Women Auckland Branch and Te Rōpū Wāhine Auckland Council's Women's Network for a special Suffrage Day event at Women's Suffrage Mural on Te Hā O Hine Place.
Guest speakers include Auckland's Deputy Mayor Desley Simpson; Challen Wilson, NCWZ member and great granddaughter of Mere Te Tai Mangakāhia; Isabelle Llyodd, winner of National Council for Women's high school speech competition; and Joanne Maskell from Te Rōpū Wāhine Auckland Council's Women's Network.
Auckland Heritage Festival returns and this year's must-see events tie into the 130 year commemoration.
Head to Mount Roskill Library for Re-enactment: 130 Years of Women's Suffrage for a live re-creation of the moment suffragettes delivered a 270 metre-long petition to the steps of parliament.
Come along dressed in your best 1800s garb to hear suffrage-inspired speeches delivered in character to connect to one of our most important parts of history.
Or head along to Franklin Arts Centre in Pukekohe for Celebrate 130, an exhibition showcasing 130 prints by artists across Aotearoa.
The prints honour the lives and influence of women and celebrates the diverse roles and experiences of women on this important anniversary.
More artworks to experience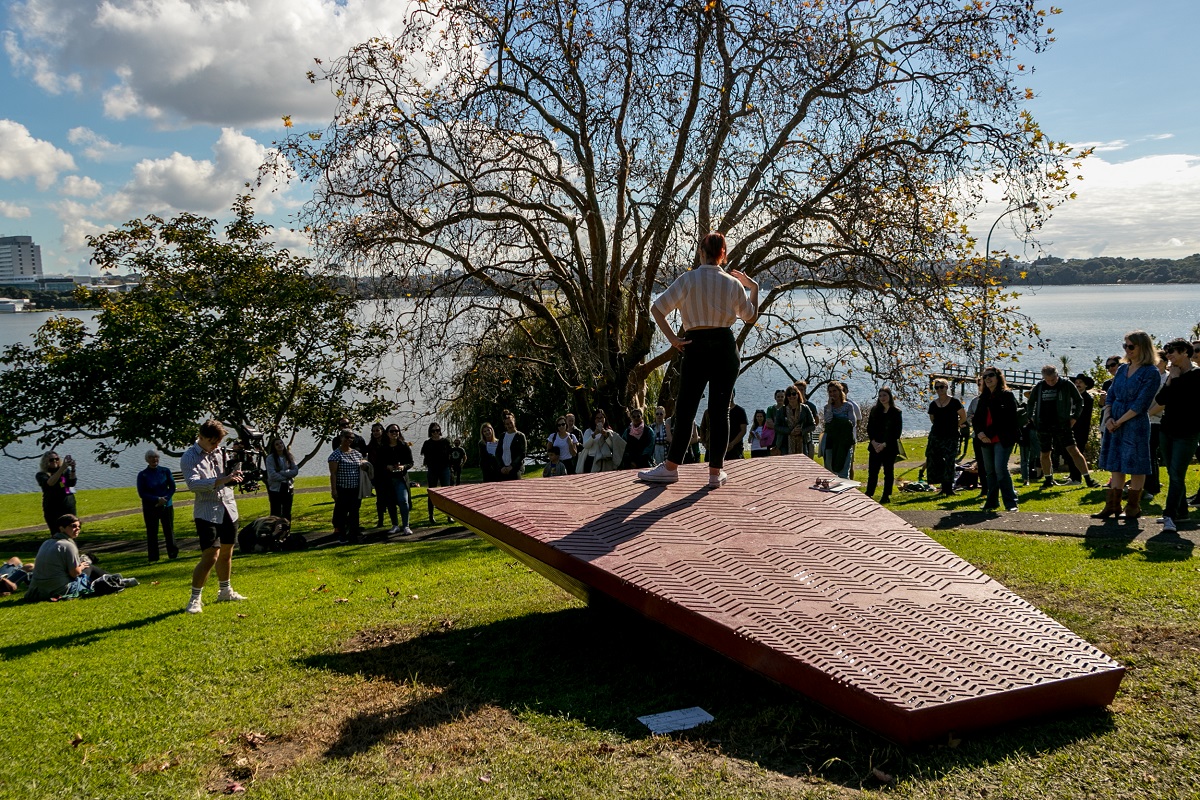 For another incredible artistic rendering of the suffrage movement, check out Jae Kang's Mahi Tahi, a kinetic sculpture at Pukekohe's Town Square that represents the journey towards women's suffrage through the rhythmic, flowing movement of ribbons – a symbol commonly used by suffragettes in the 1800s.
Or pop over to Takapuna's Killarney Park for a modern take on the functional soapboxes used by suffragettes to spread messages about the vote for women with Soapbox, by Jasmax, Olivia Collinson, Vanessa Coxhead, Stephanie Darlington, Prue Fea, Jayne Kersten and Madeleine Racz.