If there's one word you wouldn't use to describe Tāmaki Makaurau, it's flat. With its 53 volcanoes (admittedly a few of those are flat), the Waitākere Ranges to the west and the Hunua Ranges to the south, our region is famous for its humps, bumps and special places to take in incredible views.
Hill walks are an impactful way to boost your fitness levels, burn calories and increase muscle strength. And even if it's a slog and you have to walk backwards for a while or have a rest on the way up, knowing that you have the reward of a magnificent view waiting for you at the summit will motivate you to keep going. So push it to the limit with these awesome cardio climbs across the Auckland region.
Ōwairaka / Te Ahi-kā-a-Rakataura / Mt Albert
Challenge yourself to brand new staircase climbs at Ōwairaka / Te Ahi-kā-a-Rakataura / Mt Albert. As part of ongoing construction work to protect important archaeological sites on the maunga, new tracks have been built. The existing track from the carpark at 27 Summit Drive has been upgraded with box steps and a new aggregate pathway. Or take freshly built steps extending from Mt Royal Avenue and Toroa Terrace straight up to the tihi / summit.
Maungawhau / Mt Eden
We couldn't really talk about cardio climbs without mentioning Auckland's highest natural point. Head up Maungawhau / Mt Eden at sunset on a fine day and you're in for a communal viewing experience as locals and tourists gather to watch the sky turn pink and gold. From the long boardwalk around the tihi / summit, you can look out to other maunga and the Waitematā Harbour.
You can also gaze down into the iconic 50m crater or at the tūāpapa / terraces where the houses and gardens of the pā once stood, alongside the rua / food storage pits. Note that the main entrance closes at 8.30pm in summer and 7pm in winter. Pedestrians can access the maunga at all times using one of four paths.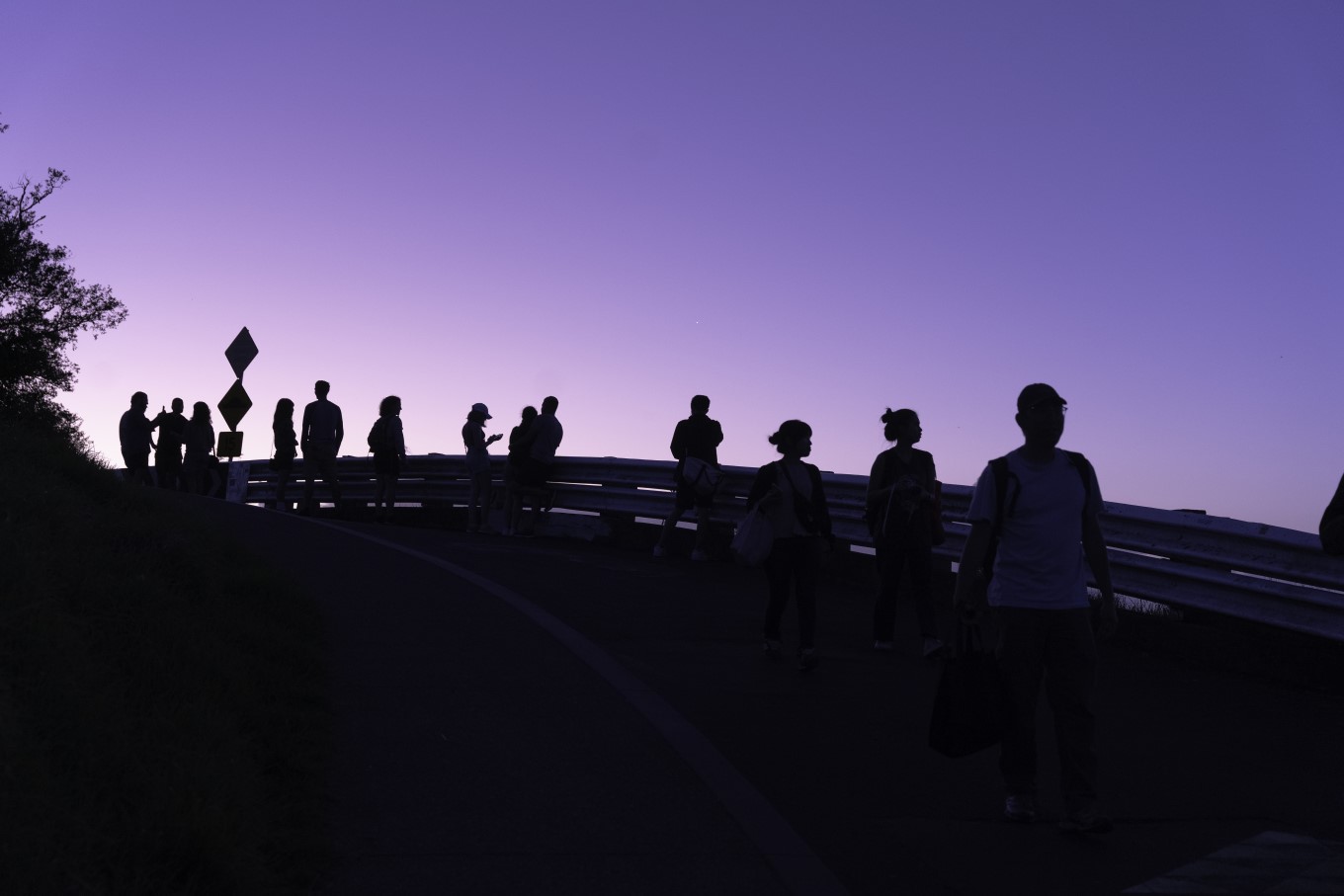 Point View Reserve, East Tāmaki
If you've never been to Point View Lookout in East Tāmaki, you're in for a truly panoramic experience. Gaze out at Rangitoto and the beaches of Waitākere through to Manukau Heads, then turn around and check out views of the East Auckland beaches.
With 29-hectares to explore, Point View Reserve offers a range of bush paths and a open countryside. If it's a hot day, stay cool walking up and down the stairs of the shady Point View Bush Path tracks. Established native forest, including majestic nīkau, mean there's a good chance you'll hear namesake birds on the Tūī and Riroriro tracks.
If you're looking for a cardio climb that you can do with a pushchair, the reserve's Point View Lookout track will get you puffing. The gravel path starts at 71 Coachman Drive, Flatbush, and takes you up to the trig point.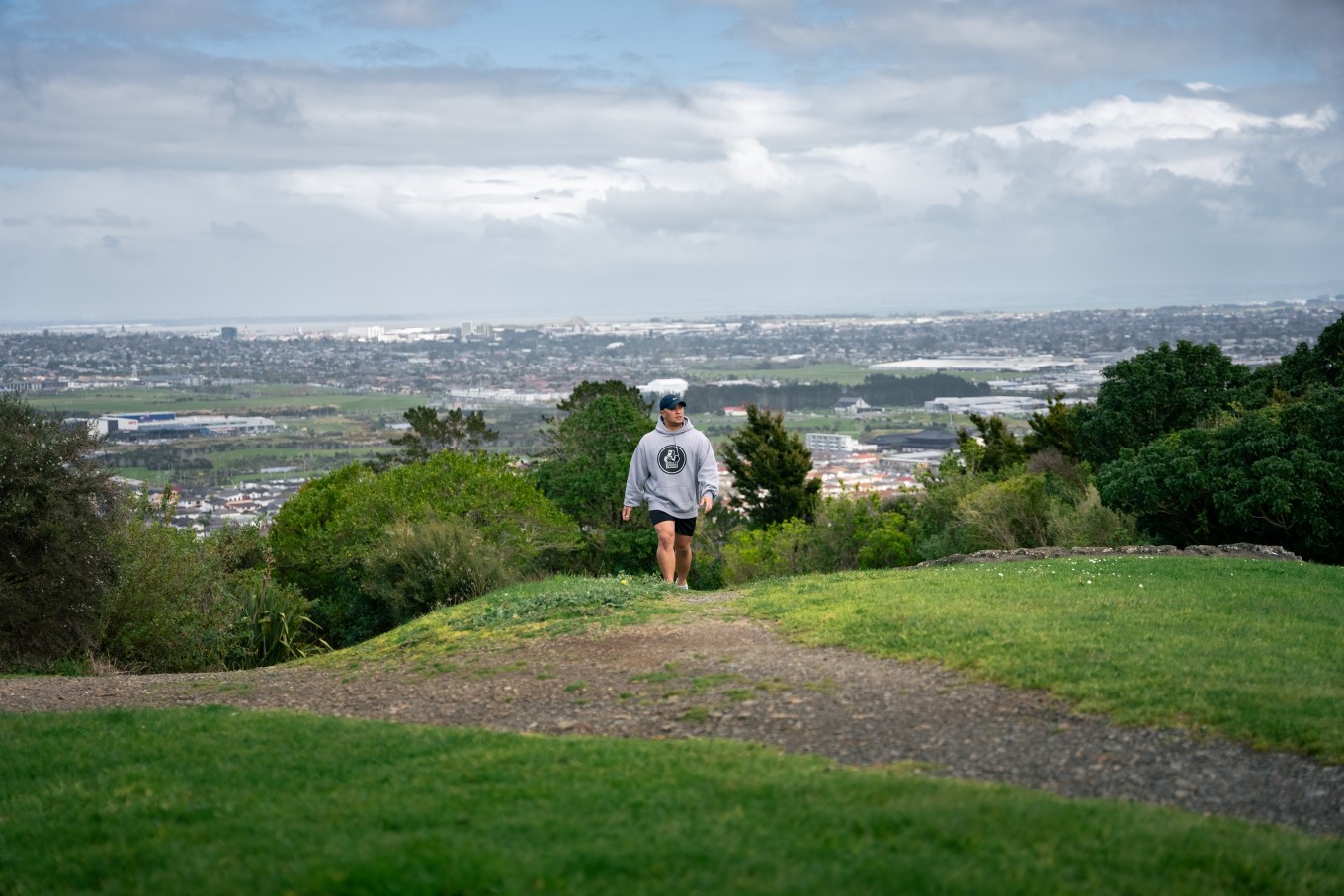 Hunua Ranges Regional Park
Combine forest bathing with fitness at our region's largest forested area, which is also home to the beautiful Hunua Falls and one of the only places you might see a kōkako in Auckland. The park boasts a range of tramping tracks that will get your heartrate up but if you're looking for a decent half-day walk, the Cossey Massey Loop is 8.3km and takes around three hours.
From the carpark at Hunua Falls, this loop walk ascends 380m, during which time you'll pass kauri, cross a stream and take in some stunning views of the Hunua Ranges and Cossey Dam, one of the five dams in the Hunua Ranges that supplies Aucklanders with water.
The shorter Suspension Bridge Loop track will still work your waewae / legs. The 3.9km loop takes around 1 hour and 15 minutes – it begins with a suspension bridge and leads you to a lookout platform above the Wairoa Reservoir.
Leigh Coastal Path
If you want a coastal path with a range of terrain to keep things interesting, the Leigh Coastal Path has it all: stairs, gravel, paving, boardwalks, grass and even rocky sections. It runs from 41 Lax Crescent to Cotterell Street and takes around an hour.
On the way you'll be treated to views over Tāwharanui, Omaha, Goat Island and Hauturu-o-Toi / Little Barrier Island. And if you're super lucky, you might even spot dolphins and whales.
Wenderholm Perimeter Path
If you're up for a physical challenge, you'll enjoy this tramp over the Maungatauhoro Headland between the Waiwera and Puhoi Rivers in Wenderholm Regional Park.

As well as having steep sections there are some unformed tramping tracks on the Waiwera Estuary side of the headland, so be sure to wear good walking shoes.
The track, which takes around 90 minutes, leads up the headland, Maungatauhoro, a wāhi tapu / sacred place due to battles and burials that happened there.

Beautiful views of the Puhoi River, Te Akeake sand spit and islands in the Mahurangi Harbour will boost your spirits.

Finish up with a picnic under the pōhutukawa on the beach or even a swim.