Where can you walk along a 3km stretch of beach, catch the best waves for boogie boarding and cycle for 7.5km along a picturesque estuary? Ōrewa, of course.
Once upon a time, everyone heading to or returning from destinations north of Auckland passed through this pretty mangrove-fringed town, as it was part of State Highway 1.
These days the highway bypasses Ōrewa via the two bush-clad Johnston Hill Tunnels, meaning the suburb is thankfully quieter for locals, but is still only 30-40 minutes from downtown Auckland, which is great news for Aucklanders hankering for a low-stress, easy-to-get-to seaside escape. In fact, a mini break in Ōrewa may just be the perfect family staycation and here's why.
Stay at Ōrewa Beach Holiday Park
Book accommodation at Ōrewa Beach Holiday Park and you can wake up and walk straight out onto the beach. This jewel of a holiday park is owned by Auckland Council and offers a range of reasonably priced accommodation options, plus children under 24 months can stay for free.
Choose from deluxe cabins or self-contained units with their own kitchen and bathroom. Or book a standard cabin and bring your own bedding or add a full linen/bedding/towel package for queen and bunk beds. It's part of the quintessential Kiwi campground experience to get to know your family campers in the campground kitchen.
If you're after a low-cost option, pitch your tent on one of the beachfront sites or park up your campervan or caravan.
And if you want to feel outdoorsy without having to do anything with poles or pegs, glamp it up! The deluxe eco-structure glamping tent has a beach-front view and sleeps four, and the pretty seasonal belle glamping tent comes with its own power supply and barbecue.
It goes without saying that you'll be spending lots of time at the beach, but the campground also has a very popular playground, pedal karts, a basketball pad and barbecue areas for the whole family to enjoy.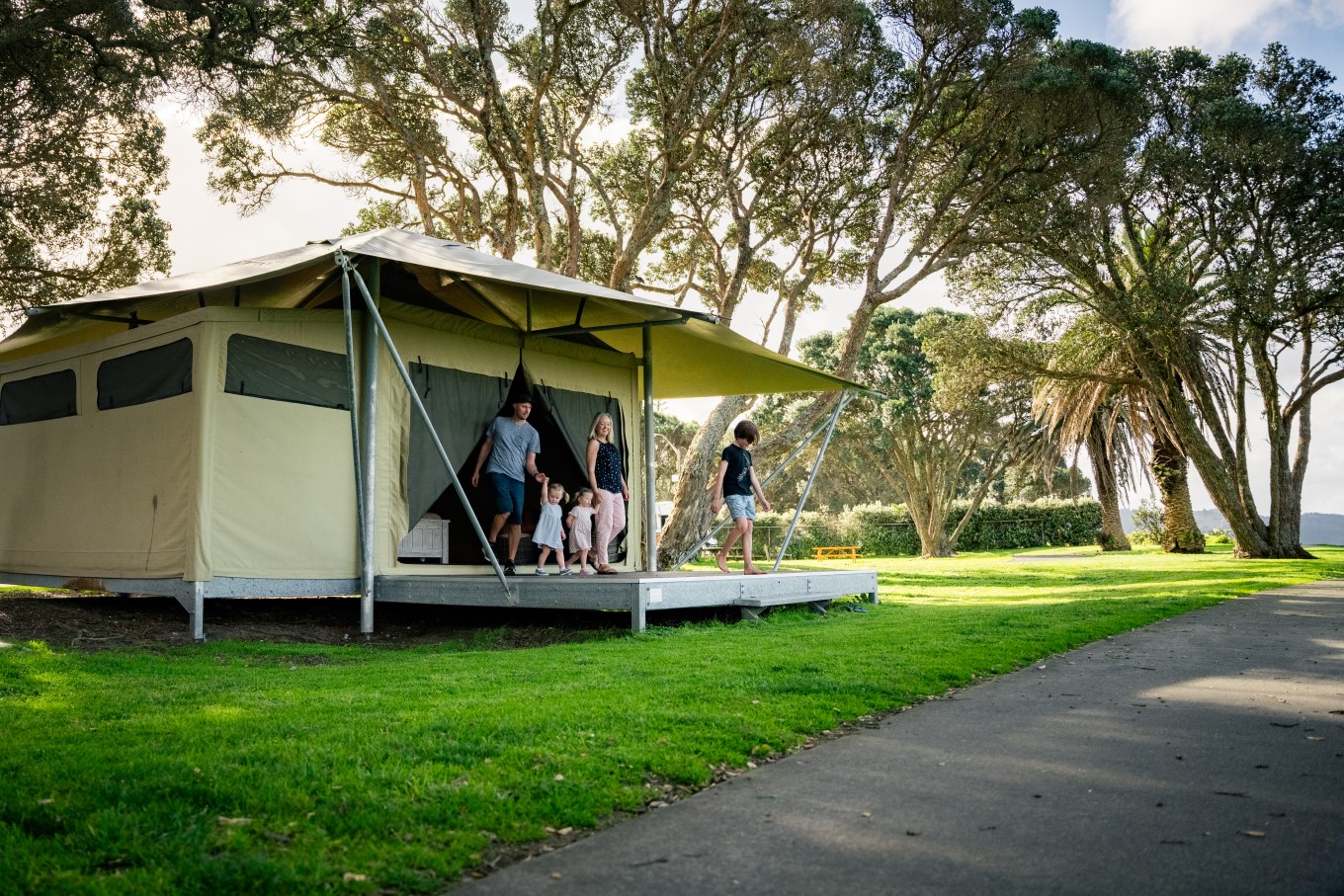 Hit the beach

Your main source of free entertainment is one of Auckland's most beautiful beaches. With its flat long sandy stretches, Ōrewa Beach is perfect for walking along, building sand castles and swimming. With its gentle rolling waves, it's also a great place to introduce kids to boogie boarding or surfing. Book into lessons at one of the local surf schools if you want to learn how to ride a wave.
Ōrewa Beach is a surf club patrolled beach, so remember the safest spot is always between the flags.
Loop the lagoon
Complete your 10,000 steps for the day by walking along Te Ara Tahuna / Ōrewa Estuary Path. The wide flat path is also ideal for bikes and young scooter riders who can tire of walking, and includes boardwalks and bridges to keep things interesting. The path starts at Western Reserve at 214A Hibiscus Coast Highway, which also happens to be the home of one of New Zealand's best-designed skate parks. Be sure to mention that to skater-mad tweens and teens before leaving home.
Continuing along the loop around the estuary you'll see Māori carvings that acknowledge the area's history as an important kai-gathering area, native birdlife, paddleboarders and kite surfers.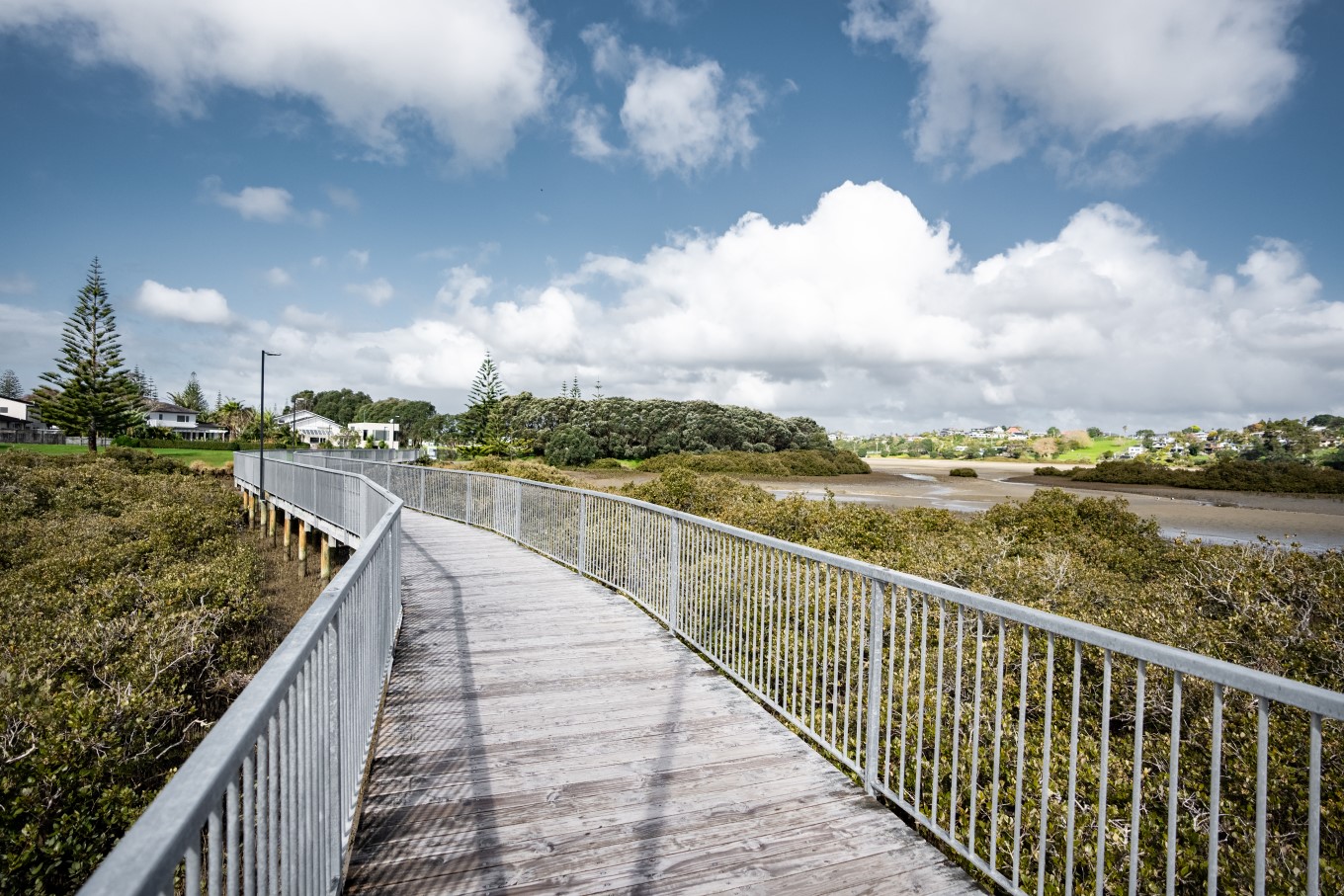 Pound the pavement - beachside
Another great walk that starts at Western Reserve is the Ōrewa Beachfront Path which takes around an hour or two hours' return. The easy-walking paved pathway leads you from the estuary, along the river and past the campground to a small playground near the lifesaving club. But wait, there's another playground too! If you follow a sandy path past the Ōrewa Surf Lifesaving Club, you'll arrive at a larger playground with spinning tops, tunnel slides and more.
Stop for an ice cream or lunch at the cafes at Ōrewa town centre, then continue on to Moana Reserve. Make sure you check out Airborne, a sculpture depicting a running child and a sea bird in full flight by artists John Mulholland and Philipp Ripa. Then head off the pavement and onto the grass track at Arundel Reserve where you can explore the beach at low tide.
State of the art

Located in Western Reserve is Estuary Arts Centre. View exhibitions, have a coffee and a snack in the onsite cafe and check out Weka Giftshop for wares made by local artists, including jewellery, ceramics and cards.
If you book in advance, you can also sign up for an art class. Estuary Arts Centres runs a range of one-day school-holiday art classes for kids and weekend workshops for adults. There'll be art activities, food stalls and live music.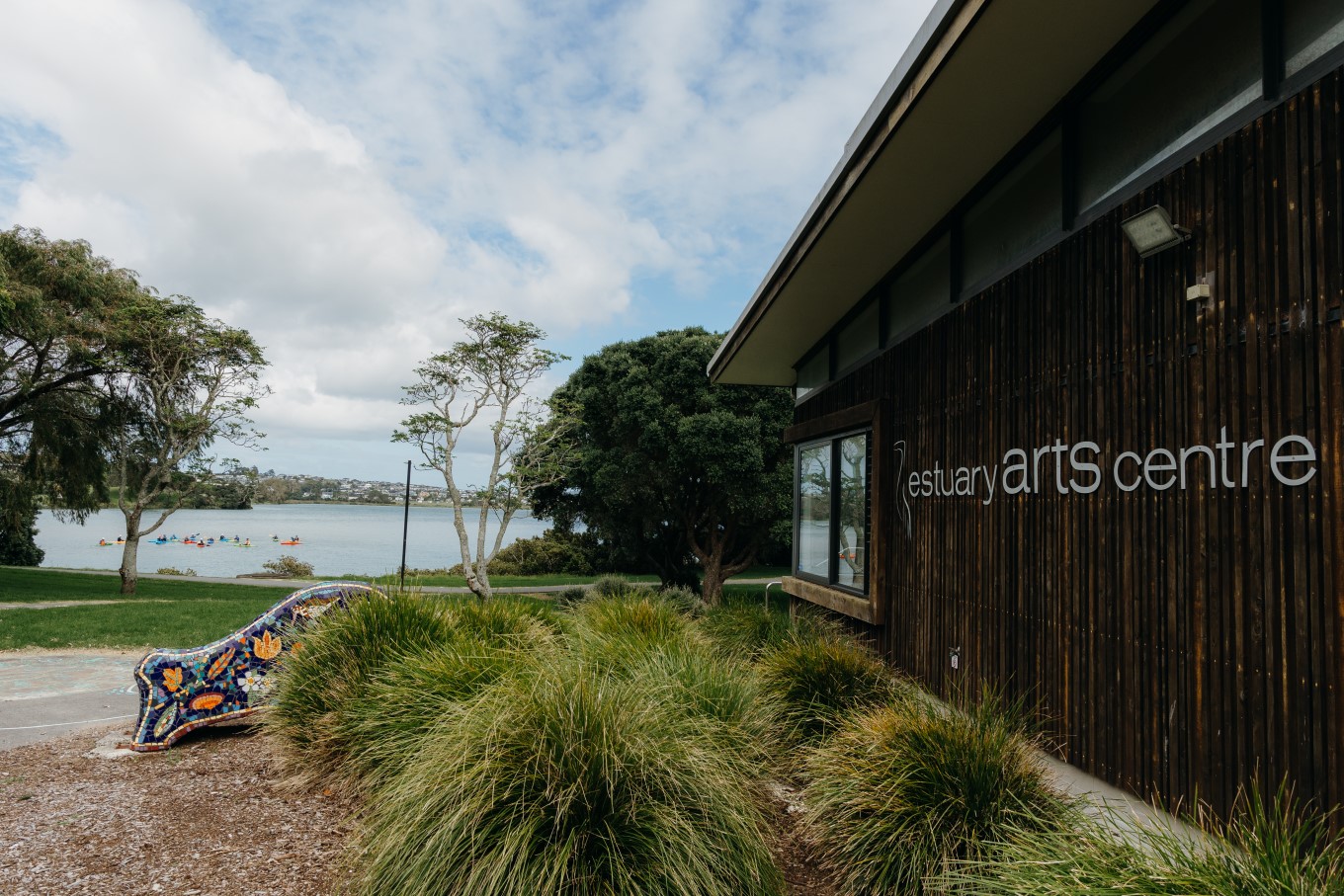 Start your engines
If festivals are your thing, time your stay with the Rodders Beach Festival . Check out hot rods, muscle cars and street machines, enjoy vintage fashion shows and live music. This fun family weekend, which is supported by the Hibiscus and Bays Local Board, raises money for Westpac Rescue Helicopter and is a popular annual event for the Ōrewa community.