More streets, squares, lanes and spaces are bringing festive energy to the city centre this season. Don't miss the magic! It's free and fabulous.
You'll see The Pav shining like a translucent festive toybox; doves and globes gracing much-loved lanes; indigenous markets humming and drummers drumming in the streets of midtown; Queen Street dressed in festive colour and music; and a neon star, festive chandeliers, giant baubles and Christmas trees competing for Instagram love.
Auckland Council and Heart of the City, with their city centre partners, are proud to bring the magic of Christmas to the city centre from Friday 24 November to 24 December, supported by the city centre targeted rate.
For regionwide festivities, scroll down to 'Light up the Skies.'
Heart of midtown
Start your festive journey in Aotea Square, then walk or grab some wheels and ride with the kids along Waihorotiu path – a new 'square to square' experience the full length of our upgraded Queen Street.
Don't miss a Month of Saturdays with live performances every Saturday in Queen Street from 2 December. Glance at neon lights in the street's ever-beautiful trees and chance a special market day in time-honoured Strand Arcade on 16 December.  
Auckland Live Christmas in Aotea Square will stage Christmas karaoke, live music, a Christmas film, games and an interactive augmented reality experience – all from Saturday 9 to Thursday 21 December.
As you pass Smith & Caughey's you'll see puppets in the windows bringing a new storybook to life: 'The Twelve Elves of Christmas' written by Evie Day and illustrated by Liam Darcy. While there, don't miss the chance for the children to meet Santa in his grotto.
Westside
To the west of Queen Street, follow the sounds of African drumming on Thursday 30 November as midtown brings the city its second street party. Experience live art, sample street food, make zines and admire Midtown's Many Lovers in lightbox form.
Elliott Street will be aglow with festive chandeliers in the cross wires above the street, and the historic Strand Arcade will guide you through the history books.
Dance among this tight-knit labyrinth of midtown streets and lanes to live jazz and Afro pop, before listening to vinyl in the glow of neon light. Fossick through indigenous and queer markets, taste diverse food offerings, witness a fusion of fashion and art, and find a menu of late-night festivity.
Full Midtown Street Party line-up is here.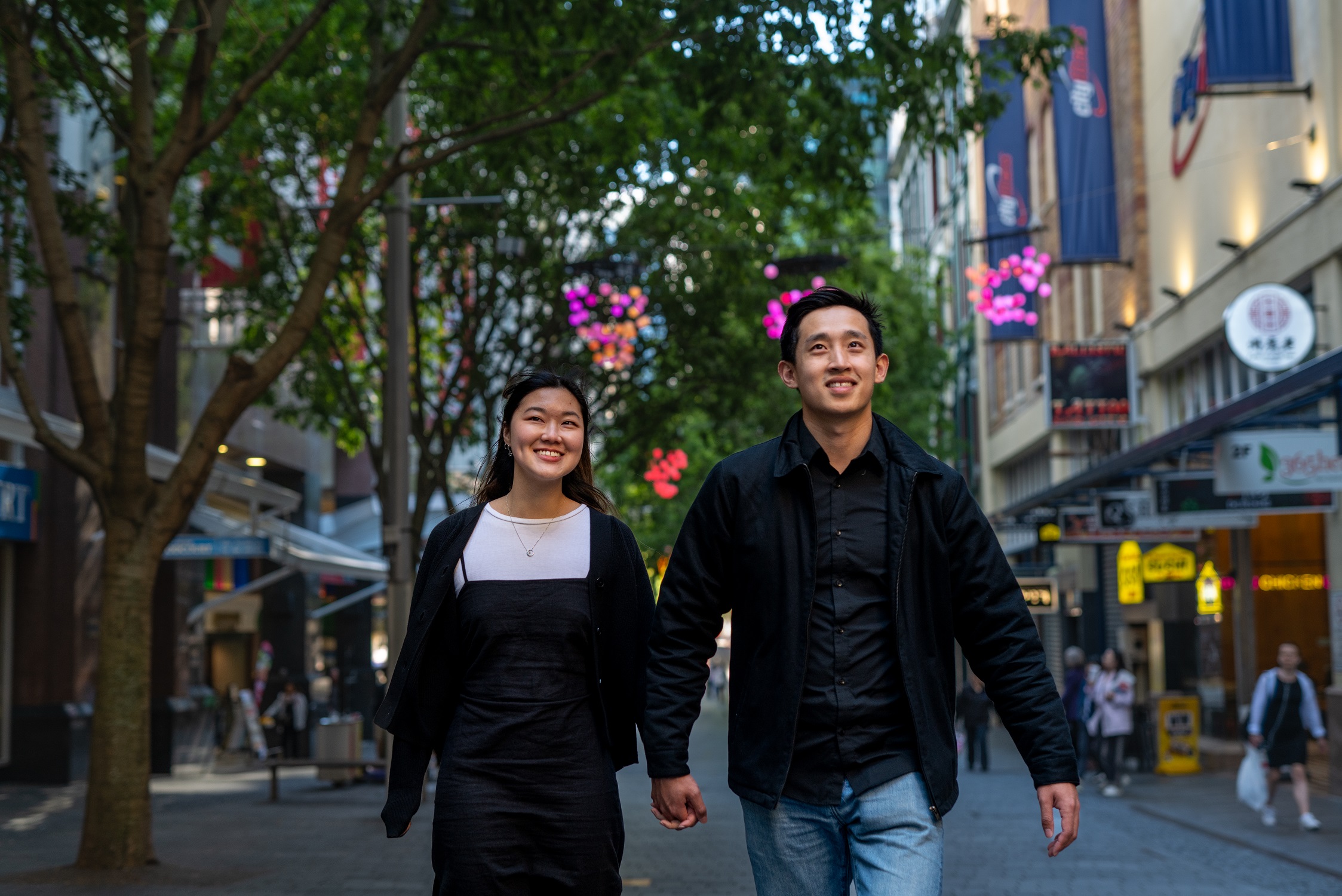 Eastside
On your journey along Queen Street towards the sea, veer off to the east and look up to the sky. Durham and Vulcan Lanes will be adorned with festive doves and globes in an overhead celebration.
If it's a Thursday evening in the second half of December you might hear sultry saxophones and toe-tapping beats, laced with the rich character of our historic Vulcan Lane.
Read more here.
For another take on Christmas, head to Khartoum Place, Freyberg Place and O'Connell Street to see their signature style of festive colour.
Te Komititanga
Arrive at the waterfront – where Queen Street meets the sea – and everything will feel like people are in miniature. You will have landed in a larger-than-life festive playground at Te Komititanga.
Giant baubles, a giant light forest and a giant pavilion – known as The Pav – will greet you.
See dancing tinsel people, elves on stilts and crazy, colourful street performances saved for the season. So get your dancing shoes on and shock the kids with your moves! 
The Pav
A smash-hit last Christmas, The Pav is back.
Promising to capture imaginations and brighten hearts, this giant festive toybox in a rainbow of colours, will super-charge Te Komititanga – the square at the lower end of Queen Street - from 24 November.
Magical live performances will lighten up lunch times and evenings – starting 24 November - for everyone. Read more here.
Selected as a finalist for a 2023 Best Design Award, this illuminated festive pavilion was co-created by award-winning designers Angus Muir, Matt Liggins and Auckland Council city centre place activation principal Barbara Holloway.
There's all this and much more in the city centre this Christmas – from a special Christmas market at Karanga Plaza to late night shopping, activities and performances at favourite hotspots Britomart, Commercial Bay and SkyCity, among others.   
Learn more at heartofthecity.co.nz/christmas.
Read about investment in the city centre and positive economic signs here.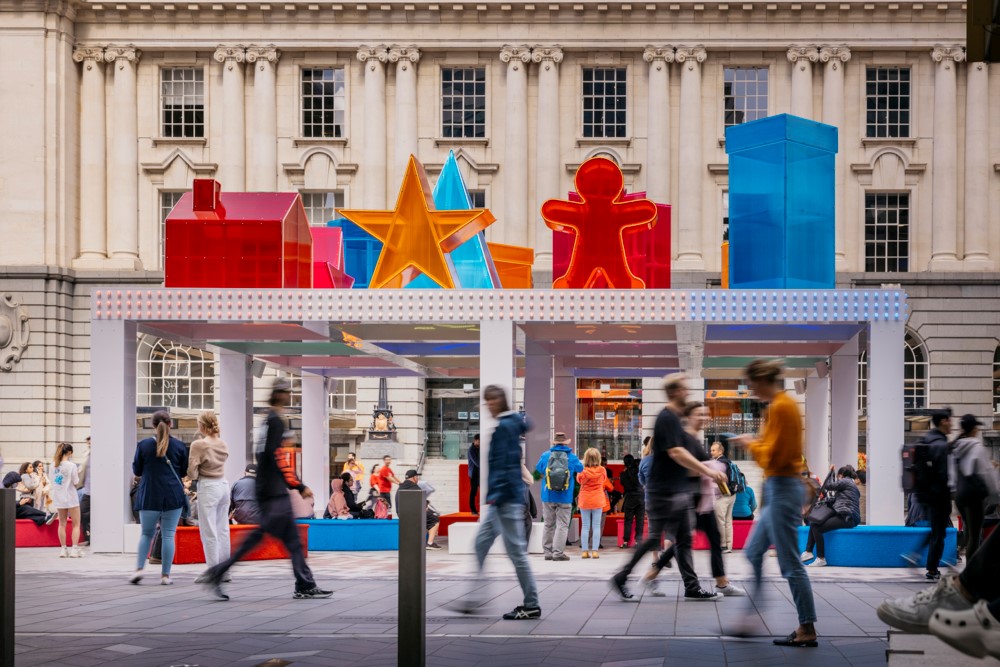 Festive happenings - regionwide
Light up the skies
Experience the magic of Christmas at Auckland's iconic Harbour Bridge with Vector Lights!
This festive season, count down the 12 days to Christmas with a uniquely Kiwi show that will ring out holiday cheer and brighten the night sky.
Look out to the night sky to see the summer skies illuminated by dazzling lights to the sound of a classic Kiwi carol 'A Pūkeko in a Ponga Tree'. 
The light and sound show plays every 15 minutes from 9pm until midnight, 13–24 December. Some of the best viewing spots include Little Shoal Bay, Westhaven Marina and Silo Park. 
Celebrate Christmas across Tāmaki Makaurau
The sound of jingle bells can be heard throughout Tāmaki Makaurau as the silly season approaches with an array of festive events and activities on offer to bring the Christmas spirit to life!
Don't miss Puketāpapa's annual Christmas celebration in Three Kings as it celebrates its 65th event with candlelight, jazz and the local choir; or head to Avondale for their very first Christmas Parade with the theme – 'all things bright and beautiful'!
Explore a wonderful selection of locally crafted gifts and treasures at the New Lynn Christmas Market; or check out Takapuna's new Waiwharariki Anzac Square for a day of performances, stalls and games – don't miss the chance to meet the big man in red!
Join in the fun at the not-to-be-missed Henderson Christmas Festival; see the trees light up at Howick's Stockade Hill Christmas Lights; or dress up for Onehunga's neon-themed Christmas parade and bring a canned food donation to Christmas in the Park Onehunga to support the Salvation Army and receive a candle to light up the night. 
Learn more at ourauckland.nz/festive.