Summer wouldn't be summer without ice cream melting all over the kids' hands and faces. So, grab an ice cream and discover ten awe-inspiring things on Auckland's waterfront.
Some weren't even here last summer, and some have been here for more than a century. Your walking shoes are calling.
The jewel of downtown
Take a stroll along the waterfront and find Te Wānanga on the seaward side of Quay Street. It's a cool architectural take on a rocky tidal shelf, with openings like rock pools and steel balustrades like giant kina shells. Its organic shape was inspired by the sandstone headlands of the Waitematā Harbour. Walk through a coastal grove of pōhutukawa and spot rongoa (medicine) species and harakeke (flax) in the gardens.
New environmental learning space
Inspiring the protection of our harbour, a 108-year-old heritage kiosk at the western end of Te Wānanga has been turned into a cultural and marine education space. Make sure Te Wharekura is on your summer must-visit list. Read more here.
Kīngi Makoare, Pou Hāpai Tikanga Taiao for Ngāti Whātua Ōrākei celebrates the kaupapa of Te Wharekura.
"We have always considered the protection of te Waitematā as essential to the wellbeing of our people. When the environment is healthy and thriving, so too are the people. By sharing our stories and heritage, Te Wharekura inspires everyone living in and visiting Tāmaki Makaurau to treat the water as a taonga, a prized possession," he says.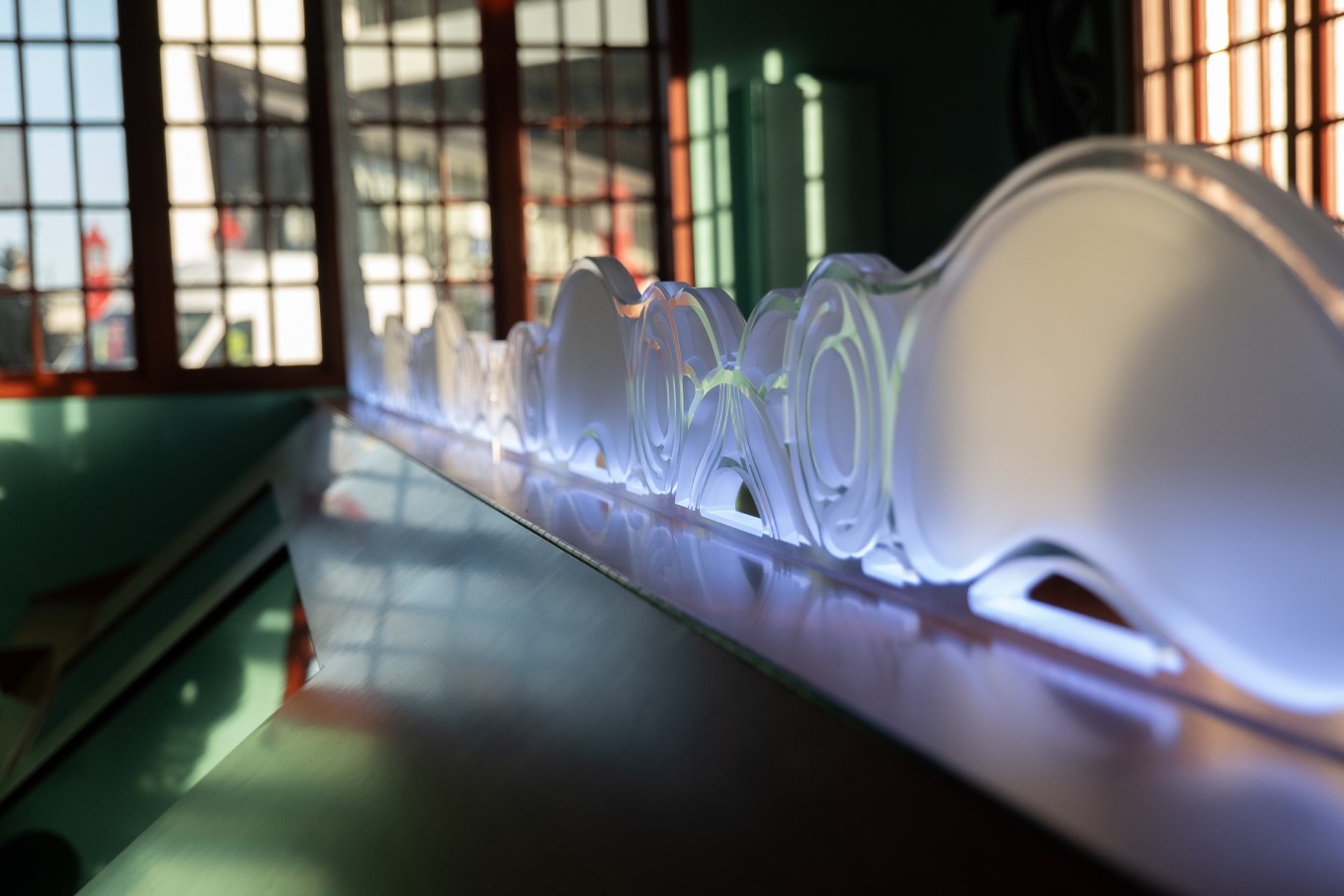 Handrails
Run your fingers over the handrails on the seaward side of Te Wānanga. You'll see the carving of Reuben Kirkwood (Ngai Tai ki Tāmaki) who has engraved an expression of Te Wairere into the timber handrails. You'll also see the work of artist and weaver Tessa Harris (Ngai Tai ki Tāmaki) who has woven the handrails with natural fibre in a design unique to Te Wānanga. Hear the voices of mana whenua here.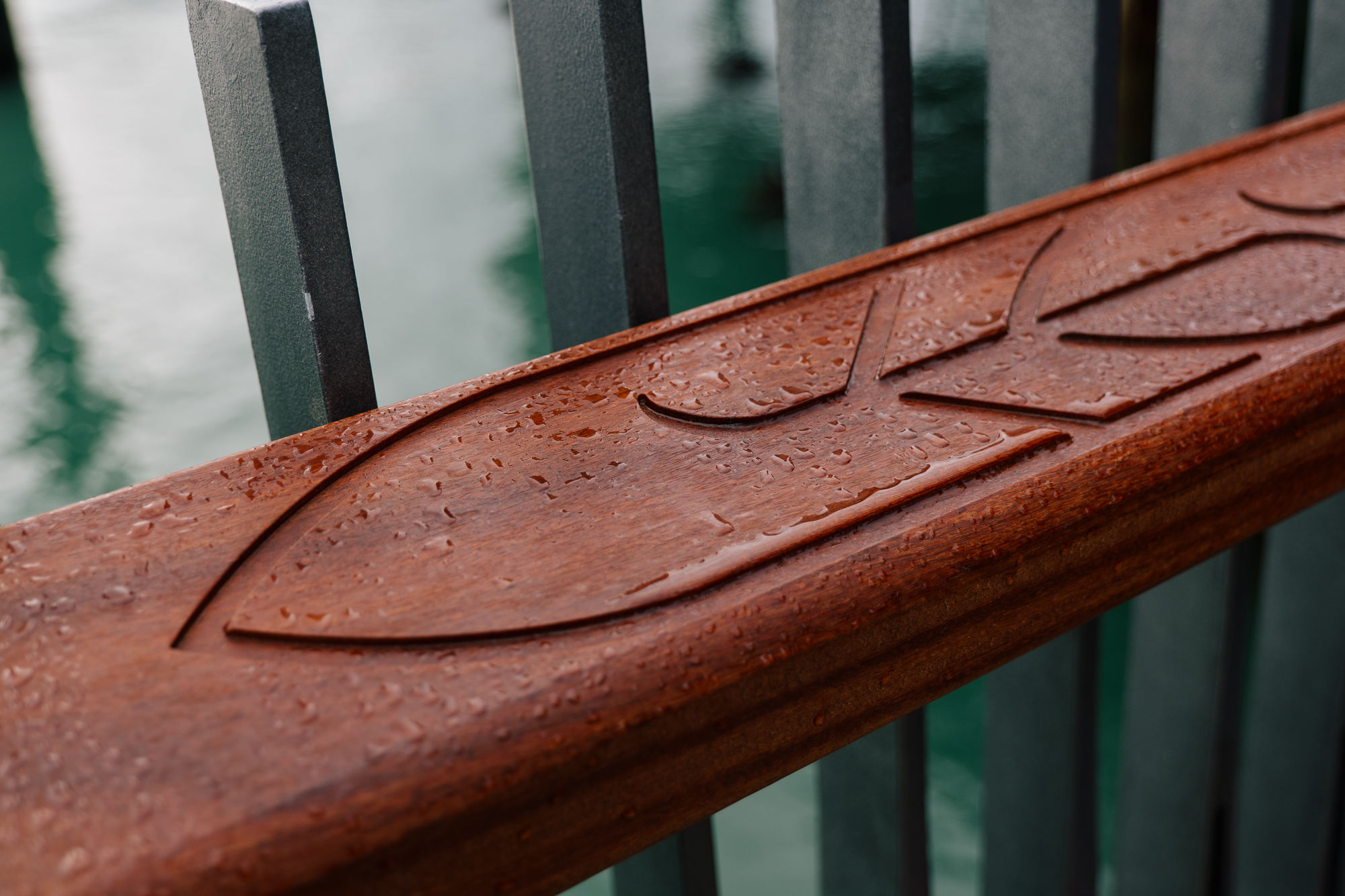 Fun for the kids
No, not a bouncy castle or a trampoline! It's our super-special  Kōrimurimu, a feature for the kids at Te Wānanga. In a work of interactive art by Tessa Harris, you'll see woven green safety webbing secured across an opening in the deck. For a little quiet contemplation, lie down and sense the sparkle of the water below, or if you're looking for action roll around like nobody's watching and have fun!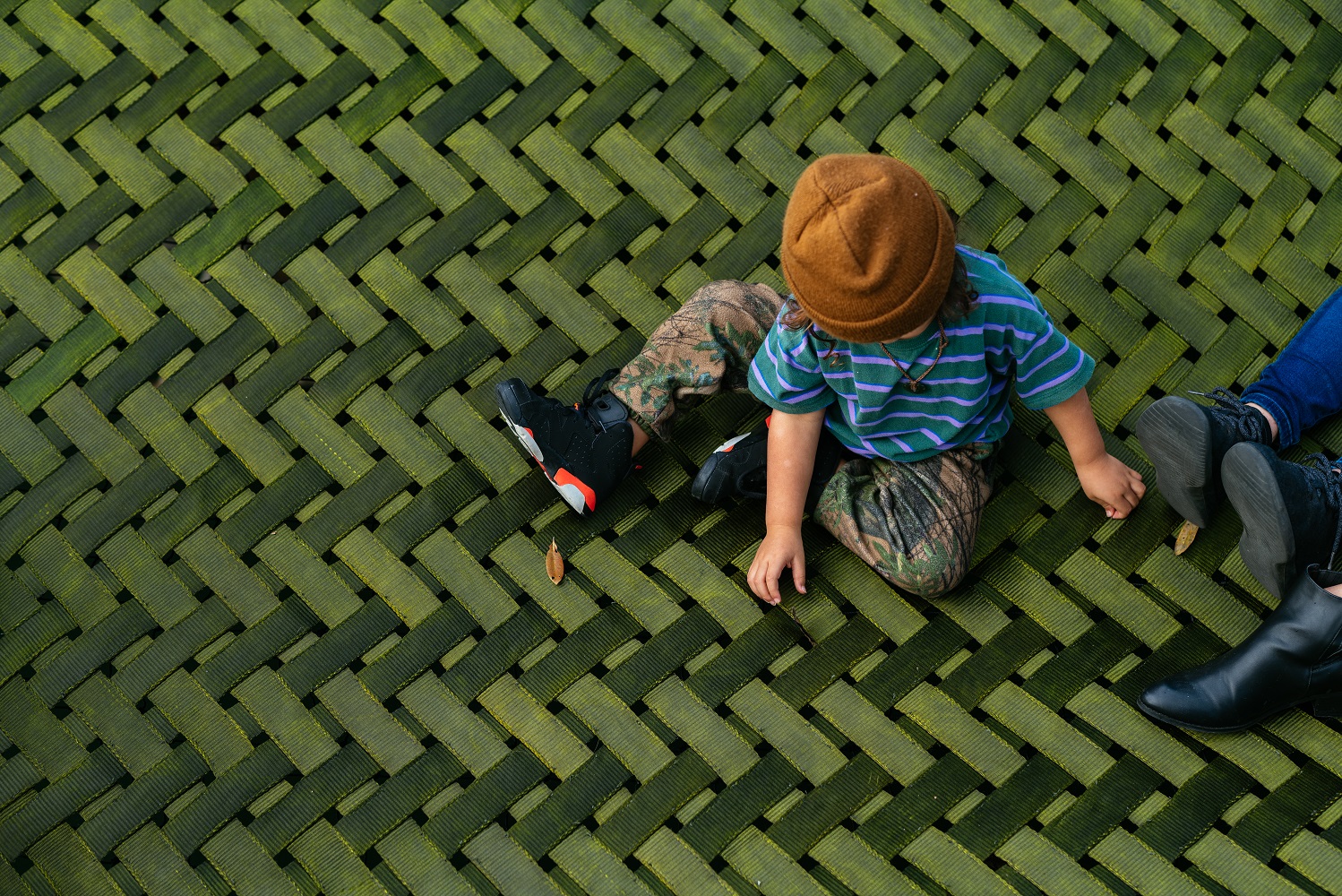 Century-old stone stairway
Lean over the eastern balustrade and you'll glimpse a cherished reminder of Auckland's ferry infrastructure from a century ago. Built for passengers boarding and disembarking vessels in 1920, the old stone stairway has been preserved and is now framed for future generations to view. Read more here.
Glass orb returns home
Look up, and notice an exquisite glass orb and spire have returned to the top of the WWI Memorial Beacon in Quay Street. Built in 1915, the monument symbolised a beacon of hope and a safe return home of our soldiers. It also served as a functioning light guiding ferries to the city wharves. Sometimes they were navigating through thick fog and dark skies, with lighting more disparate on shore 107 years ago. In November, the council group oversaw the return of the re-made ironwork spire and glass orb. Read the story here.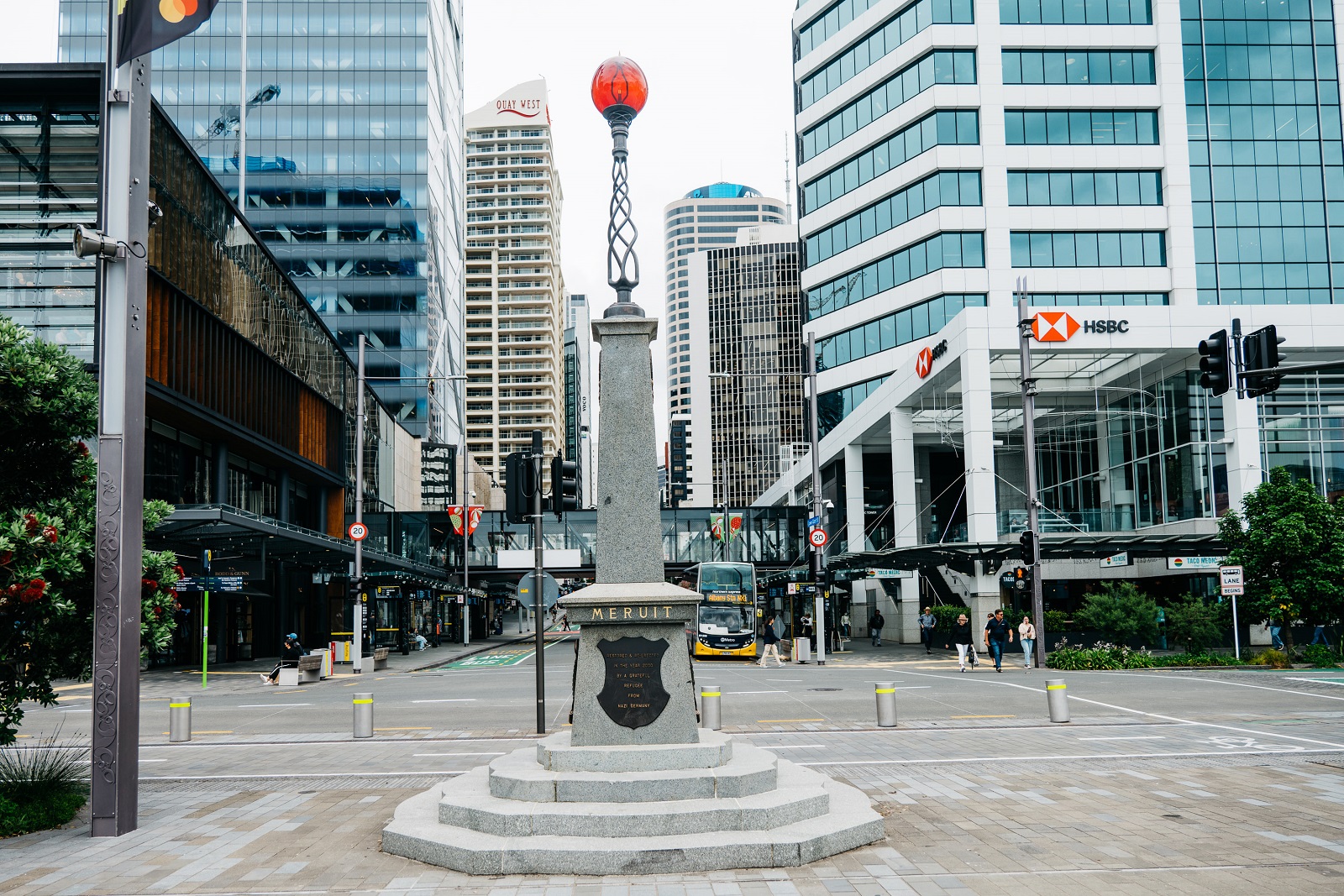 Canopies of Te Ngau o Horotiu
If you're jumping on a ferry from the city centre this summer, and your ferry departs from one of the new outer piers, look up and see the extraordinary mahi toi of artist Maaka Potini (Ngāti Tamaoho). The design is a nod to our earliest voyagers. These 100 tonne canopies were craned into position while everyone was sleeping earlier in 2021. More here.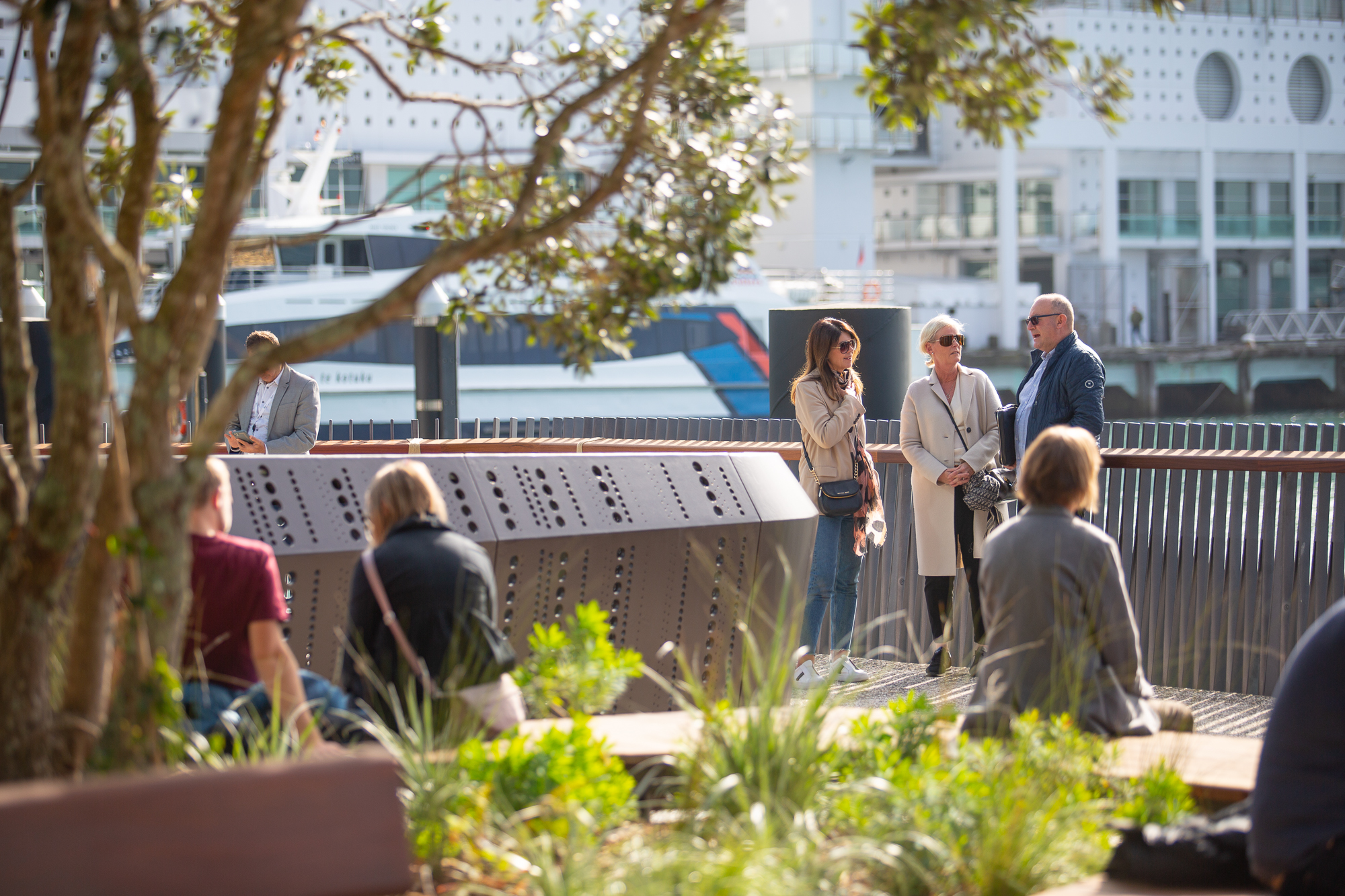 Quay Street's legendary pōhutukawa
Pause for a moment and enjoy the beauty of our pōhutukawa along Quay Street, whose fascinating journey is here. Not only do they provide shade, support well-being, attract birds and absorb carbon, they turn into a blaze of red flowers for us every Christmas.
Drinking Fountains
By now you must be thirsty, so head over to the drinking fountains along Quay Street and fill up your drink bottle. Designed by Reuben Kirkwood, the fountains' bronze bowls take the form of tīheru (traditional waka bailer).
Deliciousness
And for that cooling cone of ice cream deliciousness, you'll find an array of choices at Heart of the City. For shopping just press the button at the pedestrian crossing, step across our new Quay Street boulevard, and your options are endless.
The regeneration of downtown has been delivered by Auckland Council and Auckland Transport in collaboration with mana whenua. The transformation of midtown is next. To find out more visit ProgressAKL.co.nz/Midtown