Auckland's enchanting waterfront is a wonderful spot for a wander. Whether you stroll or roll on a bike or scooter, curious explorers can cruise along the stunning boardwalks of Westhaven Promenade from Auckland Harbour Bridge, past Westhaven Marina, towards Wynyard Quarter.
Admire the boats in the marina and be inspired by sea views, with plenty of places to sit and rest before you proceed. A stop at Silo Park is essential to soak up the lively atmosphere. Whether you're shooting hoops or cavorting in the giant ocean-themed playground – complete with a water play area and a 7.5m slide – this is a charming space to spend time.
Music, architecture and art
While you're at  Wynyard Quarter, pause to play a melody on the public piano housed in a blue shipping container and feel the calm of Te Nukuao, the waka-inspired shade structure by artist Tessa Harris (Ngai Tai ki Tāmaki) at Silo Park extension.
Then it's time to cross over to the city side of the harbour on Te Wero Bridge. This magnificent double-bascule bridge for pedestrians and cyclists was built in 2011. If you're lucky, the siren will sound and the bridge will split, with two sturdy gangplanks pulled aloft by giant pulleys to let tall-masted yachts and super-sized vessels access the marina – this is always impressive.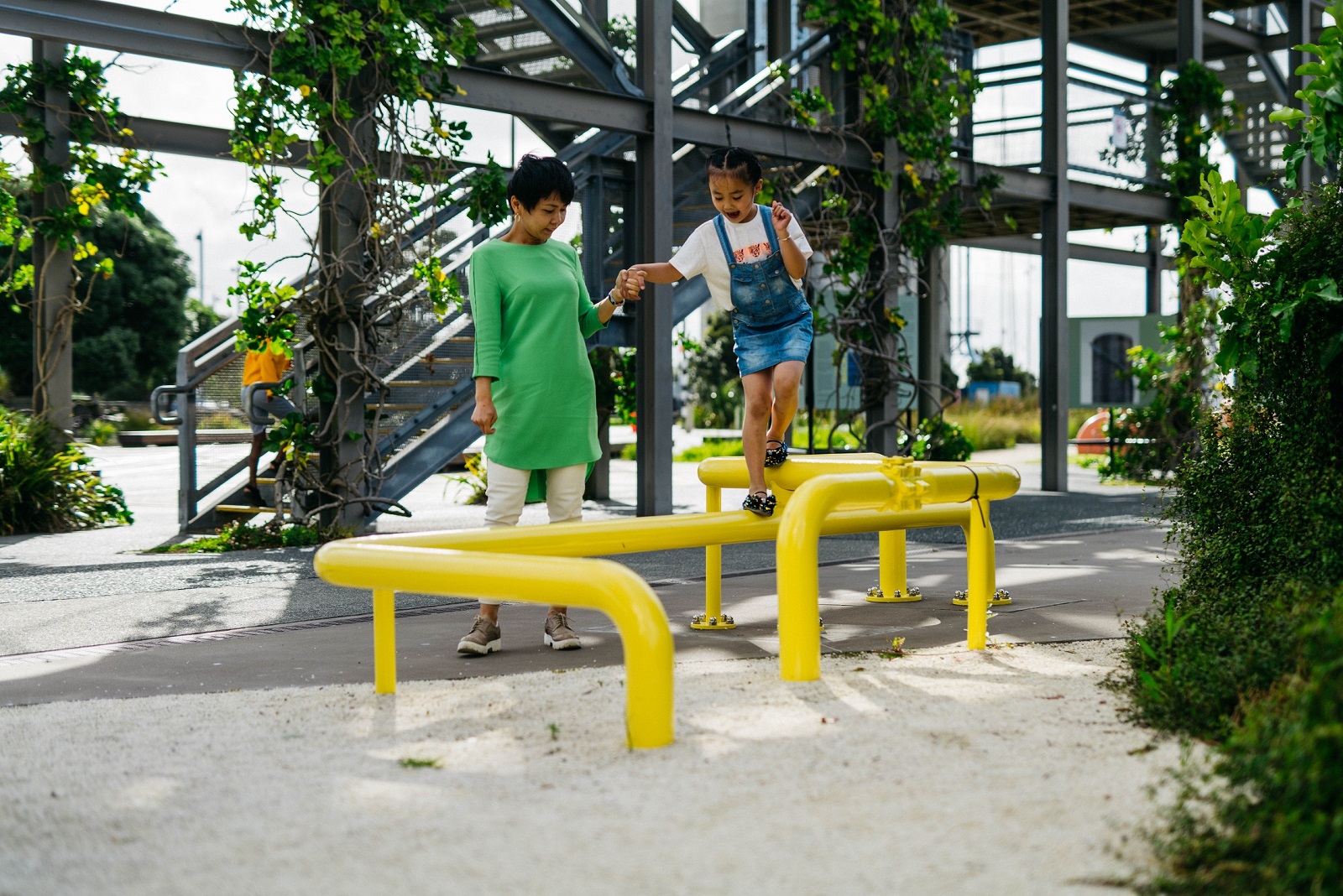 Once over the bridge, keep moving until you reach New Zealand Maritime Museum Hui Te Ananui a Tangaroa, where visitors can delve into Auckland's magnificent maritime heritage.
Now it's time to seek out Bon Voyage, Good Trip, Be Good: Dreams of the Pacific, a free outdoor exhibition at Atrium on Takutai and Te Ara Tahuhu in Britomart running until 23 January. It features photographs taken by John Rykenberg in the 1950s and '60s, capturing the emotions of Pasifika passengers farewelling their loved ones on Auckland's Princes Wharf, before their ships headed for ports across the Pacific.
With your artistic appetite piqued, discover public artworks all around you using the map on He Kohinga Toi / Auckland Public Art, a website listing 120 of Auckland Council's collection of public art.
Head east from Princes Wharf and let the Quay Street cycleway and widened footpaths lead you to award-winning Te Wānanga. See for yourself why the NZ Institutes of Architects and Landscape Architects gave this new public space top gongs in 2022. Explore more here.
Stop and smell the roses
If you're starting to tire, take the weight off your feet by paying a visit to Dove-Myer Robinson Park – better known as Parnell Rose Gardens – where the kids can entertain themselves by running around the green grounds, admiring the blooms, butterflies and dragonflies. To round the day off, take a cooling dip at iconic Parnell Baths, with their mid-century saltwater vibe where you can soak up the last rays of the day. If you've an ounce of puff left, go for one final burst along picturesque Ōkahu and Mission Bays, where you can fuel up at the eateries and ice cream parlours before heading back home.
To get the most out of this fantastic full-day adventure, aim to do it all either under your own steam by walking, cycling or scootering, or by using public transport like buses, trains and ferries, with fares still half-price till the end of January. So pack your togs and a towel, some snacks or a full picnic and set a course for the glittering waterfront of Tāmaki Makaurau – the good times are waiting for you.

Learn more about the big picture here: One of eight Transformational Moves in the City Centre Masterplan, refreshed in 2020, the Harbour Edge Stitch is making spectacular progress in uniting Auckland's waterfront with the city centre.  
Find out about the next big development – the midtown regeneration - at ProgressAKL.co.nz/Midtown.