Midtown residents and visitors are getting ready to ditch their shoes, imagine running away to the circus, sharpen their backyard football skills in an inflatable arena and dance with ribbons while finding their inner Parris Goebel.
These are just some of the play activities coming to Myers Park this summer and autumn. For the dates and times of 15 free family events in Myers Park every weekend from February until April, click these links:
Hungerball - an inflatable sports arena
The kids will discover new ways to play, learn new skills, make new friends, form new bonds, and in between the action they'll grow to appreciate the beauty and simplicity of this treasured city park.
Waitematā Local Board Chair Genevieve Sage says Nature Play – beginning on 4 March - offers families free activities designed to bring our local and wider community whānau together.
"This programme highlights the beautiful pocket of nature that Myers Park is. People start to see Myers Park as more than just a thoroughfare. They see it as an awesome spot to engage with nature. 
"The last few weeks have been challenging for everyone, so we hope families see this as a chance to get some welcome relaxation time," she says.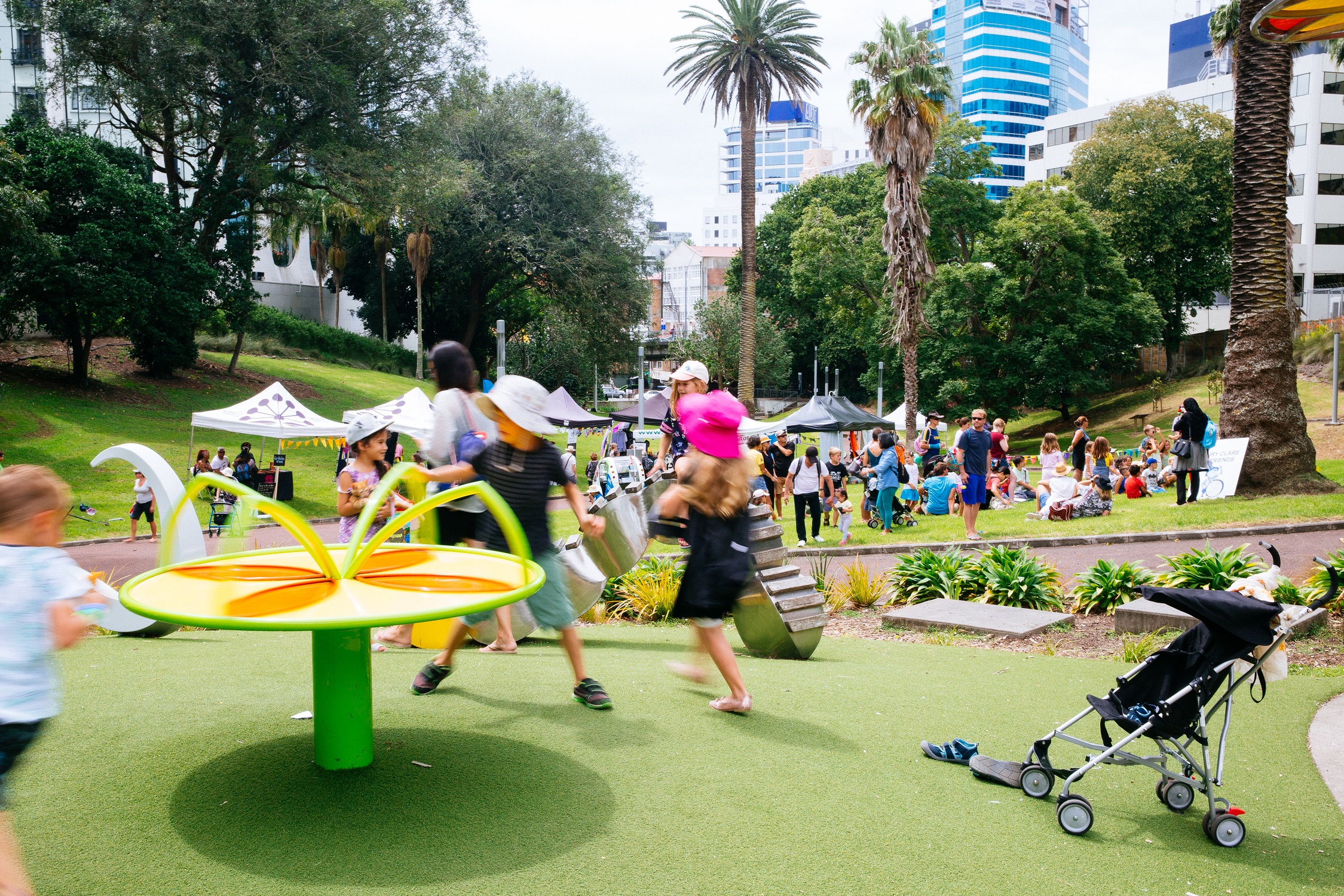 The Nature Play team plan to use the water feature in Myers Park to engage children and whānau in water play and the sloping banks to throw traditional Māori kites, among many other activities.
Bring your whānau and have some fun. Everyone is welcome. These free family events are funded by Auckland Council and the City Centre Targeted Rate.
An oasis of green between Karangahape Road and Mayoral Drive, Myers Park is the unofficial front lawn of a growing number of midtown residents. See 'living park-side' below.
The land beneath the park has featured in the history of the Waihorotiu valley for centuries. See 'a snap-shot of time' below.
Living park-side
Every day, locals who live near Myers Park step out of their apartments into a garden of mature trees including Puriri, a Moreton Bay Fig and an avenue of palms. They walk up the St Kevins Arcade steps to Karangahape Road or weave among works of public art.
They stop and admire Horotiu Haiku which brings the playful words of poet Hone Tūwhare to the edge of the splash pad, and Hau te Kapakapa / Flapping in the Wind with native birds playing hide-and-seek in a trio of sculptures.
Most weekends, local children fill the award-winning playground and splash in the waterspouts. The light and shade of this contrasting, colourful, vibrant urbanscape is their home.
A snapshot of time 
Centuries ago – the Waihorotiu stream flows through our city centre, fed by a spring in Myers Park. Centuries ago, Māori settlements thrived here. The stream, now piped underground, is still a spiritual life-force for Māori and central to the city's story.
1913 – business visionary and politician Sir Arthur Myer gifted six acres of land adjacent to Queen Street to the city for Myers Park and he built a kindergarten there.
2009 – Auckland Council and Waitematā Local Board began a staged redevelopment of Myers Park. Phase 1 included upgrades to lighting, the children's playground area and the historic play pool.
mid 2023 - the final stage of the northern upgrade will be completed this year improving safety, urban design quality, landscaping, and infrastructure within the park.
July 2023 – the Myers Park upgrade will also include the installation of a new interactive work of art. Mana whenua have created a significant artwork to encourage deeper understanding of cultural context, environment, and place.
The renewal of the northern end of Myers Park is a central project in Auckland Council's Midtown Regeneration Programme. Learn more at ProgressAKL.
And for some of Auckland's other city centre parks, as they re-open, click here.