Dining out in the city centre? Discovering the charm of our legendary eastern laneways?
Keep an eye out for a pop-up celebration of some of Tāmaki Makaurau / Auckland's live artists, most weekends until mid-February. See dates below.
Auckland Council's City Centre Programmes team is thrilled to be working with Fresh Concept, bringing life and vibrancy back to the city centre we love.
Fort Street pocket park steps out as our newest outdoor venue. It sits at the meeting point of Queen Street and Fort Street.
Native planting has just been placed, new timber seating just installed and the shiny new bike racks are seeing their first bikes. Instead of the traffic hotspot it once was, it's now a picturesque place for people to stop and chat, with the feel of grass under their feet. 
This summer, it's also a place to hear great music.   
The rolling line-up of musicians and street performers hitting the eastern laneways is designed to bring both surprise and delight to Aucklanders and visitors heading into the city centre.
Come along on these days – Thursdays and Fridays from 4.30pm until 7pm; Saturdays from midday until 2.30pm:
Thurs 16, Fri 17 and Sat 18 December
Thur 13, Fri 14 and Sat 15 January
Thur 20, Fri 21 and Sat 22 January
Thur 27 January 
Thur 3, Fri 4 and Sat 5 February
Thur 10, Fri 11 and Sat 12 February
Please note, performances are weather-dependent.
Music is popping up across these locations:
Fort Street pocket park
Jean Batten Place
Vulcan Lane
Freyberg Square
O'Connell Street
High Street
Te Ha o Hine Place (Khartoum Place)
Along Lorne Street
The line-up changes every week, but these are among the acts you might be lucky enough to see:
The Madeleines Trio
The Madeleines are a vintage vocal trio, transporting you to a golden era of jazz, swing and glamour. These talented ladies have all trained and worked professionally in musical theatre (West End, Hong Kong, Melbourne and international tours). However in the whirlwind of 2020, they returned to New Zealand and are now enjoying performing back home. With sophisticated harmonies and tight choreography, the Madeleines will take you to another era of sass, sparkle and timeless elegance.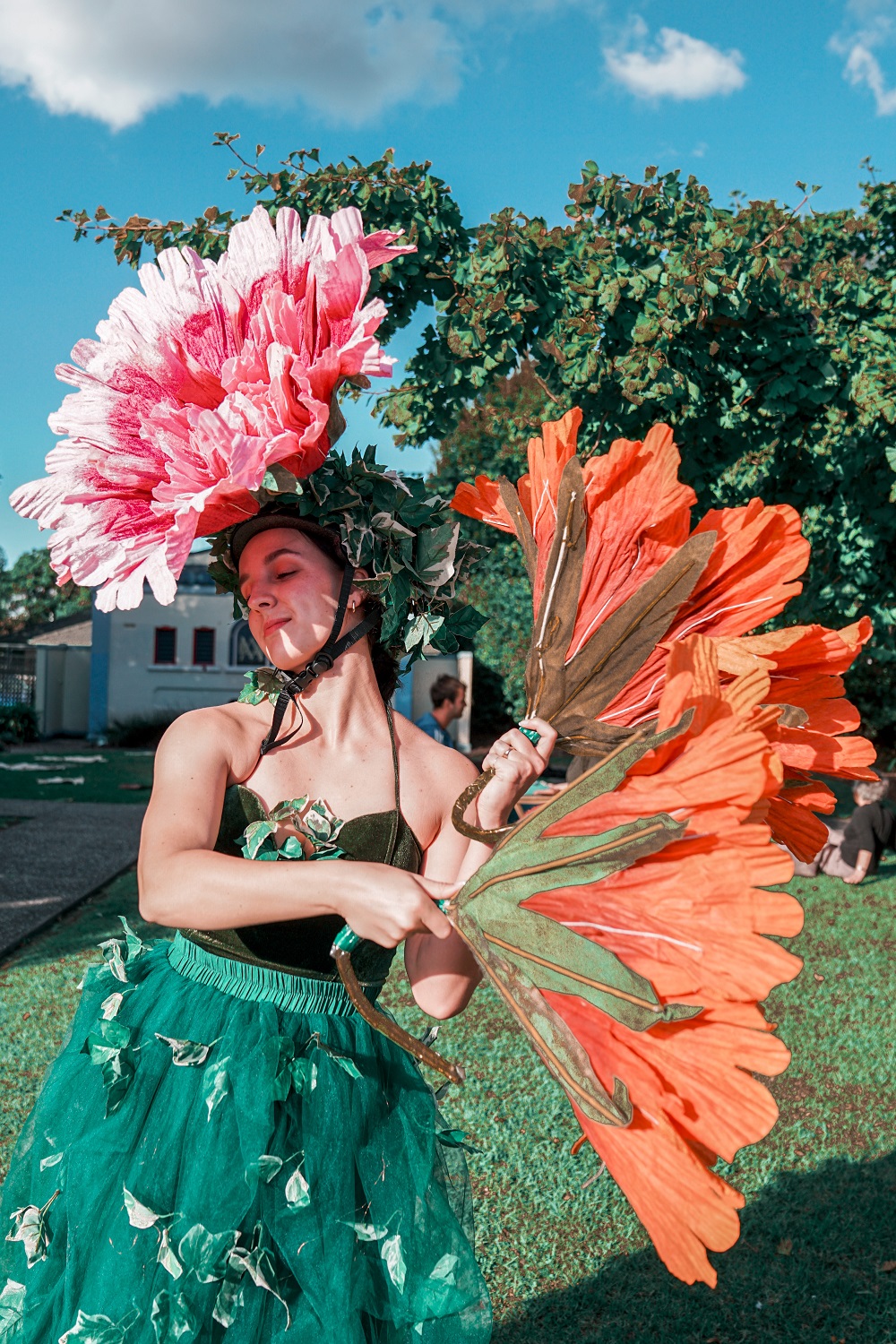 The Night Garden
Human Agency's wonderful roving human garden! Performers create stunning installations that subtly shift and move in response to their audience and environment. A larger-than-life array of botanic costumes, activated by dancers. They may do a little dance with you (from a safe distance), pose for a pic or watch the world go by in cityscapes - depending on the audience - a magical garden that will entertain and delight.
Tinsel Monsters

Like run-away Christmas baubles the Tinsel Monsters are fully-fabulous bringers of joy. Terrible at hide-and-seek but wonderful dancers (and pretty handy with a kazoo), they are bright and sparkly, gently interactive.

Twistin' the Swing
Twistin' the Swing is a lively acoustic gypsy jazz band influenced by the music of Django Reinhardt, 1930- '40s swing and Romani songs. Hear the music of Asher Truppman Lattie on clarinet and saxophone, Phillip Beatson on gypsy guitar, Travis Hill on la pompe guitar and Djordje Nikolic on double bass. The sense of rhythm, musicality and dynamic interplay between band members creates an atmosphere that is highly energetic and engaging. Twistin' the Swing has performed at events for Auckland Arts Festival, Auckland Jazz Festival and Auckland Council's Music in Parks.
The Caribbeanz Southern Stars Steelband
This band is thought to be the first steelband in Aotearoa, performing since 2005 with the authentic steelpan music of the Caribbean to 'liven up de place' and bring smiles to the faces of everyone. The band has performed all over Aotearoa and in Australia. The Caribbean pannists are joined by talented musicians from Samoa, South Africa, Japan, Hungary, Israel and the United Kingdom.