Important note
31 January - Due to storms and flooding in Auckland, the planned return of Tūrama in February has unfortunately been cancelled. The popular lighting spectacle, which recreates elements of the Waihorotiu valley through art, will return to Queen Street in July 2023 for Matariki ki te Manawa.
---
Four-year old Ali Sabri is one of many Aucklanders thrilled to learn that four elements of Tūrama will return to Queen Street on 3 February, ushering in a significant month for Māori in Tāmaki Makaurau.
When the popular series of large-scale lighting pieces first lit up Queen Street for Matariki ki te Manawa in June 2022, Ali would ask his father to drive under the gateway / waharoa multiple times so that he could witness the dual magic of the artistry over and over.
Tūrama is returning for the month of February to support the region's commemorations of the first signing of Te Tiriti o Waitangi / Treaty of Waitangi on 6 February 183 years ago.
It is returning also to support the celebrations of Te Matatini Herenga Waka Herenga Tangata Festival, a much-awaited event bringing the world's finest kapa haka performances to Eden Park from 22 to 25 February. To learn more visit Haka is Here. 
Simon Oddie, City Centre Priority Location Director for Eke Panuku Development Auckland, says Māori culture and identity are our unique point of difference in the world.
"It is so important to what this place is. This whenua has been home for mana whenua for over a thousand years. We have deep layers of cultural narrative hidden within the landscape and historically within the city centre. Tūrama is a great demonstration of how this is brought to life and adds much valued vibrancy to our city centre for all," he says.
So, make February the month you visit Queen Street, renewed with widened footpaths, planters that tell a story and our new Waihorotiu path.
While you're there, we'll help you rediscover the original shoreline and see birds that would have filled the Waihorotiu valley in 1840 when the treaty was signed, and in centuries past.
Tūrama will give you a symbolic look back at time and place.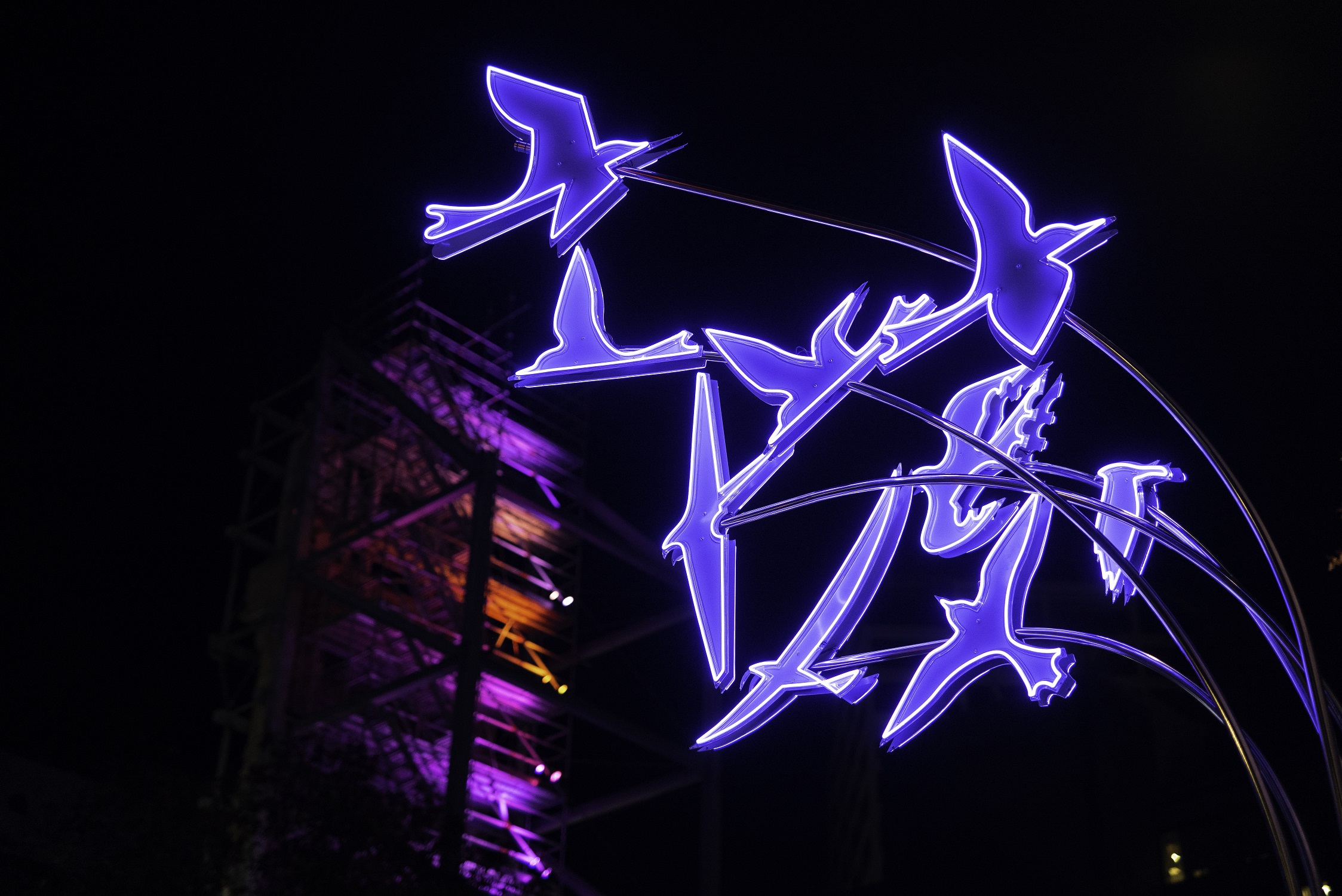 Begin your Tūrama experience at the gateway / waharoa arching above the intersection of Queen and Shortland Streets. Te Wehenga marks where the land once met the sea.
Each plane of the archway tells a different story. Face the sea and you'll see symbolism of the harbour / moana. Face the land / whenua and plants and birds will adorn the surface of the waharoa.
As you head south along Queen Street, look around and notice two significant artworks by celebrated artist Fred Graham (Ngāti Korokī Kahukura), Kaitiaki II  and Te Waka Taumata o Horotiu, which also speak to the cultural landscape that exists in this valley.
At night, when the lights shine, you'll meet the manu (birds) of this place. Two have wingspans of more than four metres, soaring on crosswires high above Queen Street.
First meet Kawau Tikitiki / cormorant. This majestic seabird is revered by Māori for its constancy of purpose and tenacity. The bird's head looks to the east towards the ancestral heartland of  Ngāti Whātua Ōrākei.
Walk further south and meet the silver-grey feathers of a wise white hawk / kāhu gliding gracefully above Victoria and Queen Streets. Kāhu Kōrako looks to the south-west towards Waiuku, acknowledging the homeland of cherished Māori artist Fred Graham (Ngāti Korokī Kahukura) ONZM, whose work has inspired parts of Tūrama.     
As you arrive at Queen Street's arts precinct, listen carefully and you'll hear birdsong and see Manu Korokī. Two flocks of playful, stylised indigenous birds form a chorus on either side of Queen Street - outside the Civic and St James historic theatres.
These artworks celebrate our birds / manu, whose various characteristics are seen by Māori as a metaphor of our own individual personalities.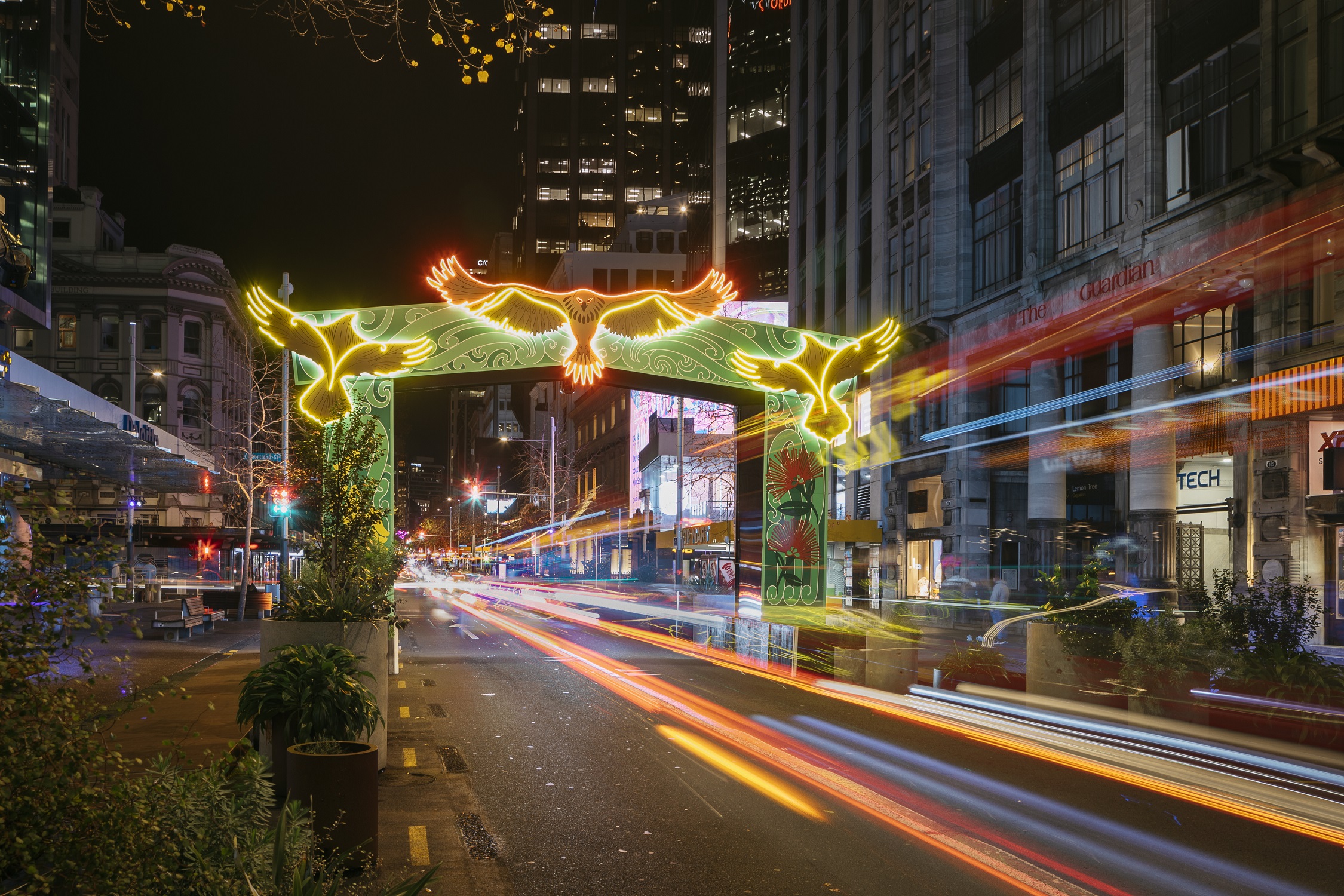 Tūrama is a creative collaboration between talented artists Graham Tipene (Ngāti Whātua Ōrākei, Ngāti Kahu, Ngāti Hine, Ngāti Haua, Ngāti Manu), Ataahua Papa (Ngāti Korokī Kahukura, Ngāti Mahuta) and Angus Muir Design with Auckland Council city centre place activation principal Barbara Holloway
Te Kaunihera o Tāmaki Makaurau  / Auckland Council and Ngāti Whātua Ōrākei are proud to bring Tūrama to life for all Aucklanders to enjoy this February.
Join artist Graham Tipene walking with his whānau through Tūrama in June 2022: 
To learn how you can take part in Waitangi ki Manukau click here, and to learn more about Te Matatini Herenga Waka Herenga Tangata Festival 2023 visit Haka is Here.