Across our region, Auckland Council owns and maintains 887 destination and neighbourhood playgrounds and play spaces, with 129 locations having accessible equipment like wheelchair trampolines, accessible ramps, sensory play and basket swings that are suitable for a range of accessibility needs.  
Playgrounds are designed to give play activities to a wide range of users, so most playgrounds with accessible equipment will also have standard equipment. 
What do we consider when building or renewing a playground? 
Playgrounds in local parks are delivered and funded by the local board. The style and design of the playground is up to the local board, which decides what is required to suit the local area.   
When we renew a playground, we look at whether there is a need for accessible equipment as part of the first stages of planning and design.  
In most playground projects, we also consider aspects that can improve accessibility for those that need smooth and step free surfaces, such as the elderly or people with walking impediments. This could be: 
Removing raised edges of playgrounds where possible to remove the "step" into the playground.

Installing wet pour surfaces, when budget allows, to enable easier access to more of the play equipment.

 

Renewing access paths at the same time to remove trip hazards and improve gradients.

 

Installing more benches and picnic tables so there are more areas to rest alongside the play area.

 
Accessible play 
For the planned renewal of the Keith Park playground, the Manurewa Local Board requested an all-ability playground to include more accessible play options. The council collaboratively designed the space with input from our local community and numerous disability groups including Deaf Aotearoa, Acorn Autism, Talking Matters, Disability Action and the Blind Foundation. The playground became Manurewa's first inclusive playground and is the first playground in New Zealand to incorporate the use of sign language. 
On a regional scale, the playground at Long Bay Regional Park is all-access and was designed with input and support from Variety, the Children's Charity. There's also the Potter Children's Garden at Auckland Botanic Gardens is also accessible, as is most of the Gardens. 
How do we consult on playgrounds – who do we talk to? 
Our Significance and Engagement Policy records how we consider community views and preferences when making decisions. We gather information about the views and preferences of Auckland's diverse communities in many ways and use this to inform our decisions, including on playgrounds. 
Our Disability Advisory Panel also provides valuable insights. The panel supports us with knowledge on issues that are important to people with disabilities, and valuable feedback and advice on council policies, plans and strategies from their lived experience.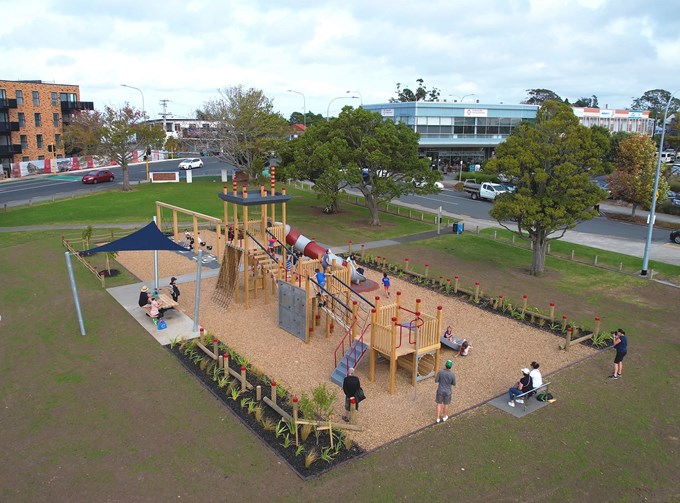 The Wesley Community Centre playground (Puketāpapa Local Board area) 
The Wesley Community Centre playground is fully accessible. However, the matting was vandalised and has been removed, and replaced with playground Cushionfall, until it can be restored.
The bark Cushionfall is not accessible for wheelchairs – however all playgrounds in our area generally have bark or sand as the safety cushion fall. We have a few areas that use wet pour (Harold Long playground and the lower section of Waikōwhai playground) which is accessible, but they might not have accessible play items.  
The Wesley Community Centre playground is to be fully renewed, not just the surface.  This project currently does not have a timeframe for implementation as there is still a way to go with the design, consultation and then sign off before construction can begin. 
Several other playgrounds in the area have basket swings and a new playground with an accessible basket swing is being developed in Three Kings. We will look into the potential for a handrail, ramp or shallower steps at Lynfield Reserve playground, and see what can be done. 
Takapuna Beach Reserve playground (Devonport-Takapuna Local Board area) 
At Takapuna Beach Reserve playground, the equipment and most of the safety surface is suitable for different access needs.
There is currently no plan to change Windsor Reserve playground as the consultation and feedback process did not indicate that the swing's safety surface was a concern. 
Okahu Reserve playground (Ōrākei Local Board area) 
The 2019 Ōrākei Play Network Gap Analysis recommended Okahu Reserve playground be a destination playground with accessible play while Selwyn Reserve playground (Mission Bay) remain a suburban playground. When it is time to renew the Okahu Bay playground, we will consult with stakeholders on the new accessible playground. 
Some inclusive and accessible play elements were included within the Selwyn Reserve playground such as making the playground surface accessible for connectivity and ease of movement. It also includes existing accessible parking next to the playground with space for loading and unloading wheelchairs. 
Investigation work into the renewal of Okahu Bay playground is scheduled for the next financial year, which, when complete, will allow us to assess the condition of the playground and plan for it to be renewed. This a standard process that ensures we renew assets at the end of their lifecycle, and our playgrounds meet safety criteria. 
When renewal does take place, all aspects of the playground, including accessibility, is considered to meet community needs in design, but this cannot be addressed until the investigation work has been completed and budget has been confirmed.  
Shoesmith Reserve playround (Rodney Local Board area) 
The Rodney Local Board has plans to include accessible equipment in the upcoming large play redevelopments in Warkworth Town Centre and Huapai Recreation Reserve and future public consultations on playgrounds will include a specific question asking for access needs. 
At Shoesmith Reserve playground, which has accessible elements, the basket swing will be lowered by a further 50-100mm to allow for easier access. The height must adhere to New Zealand safety standards which states the play item must provide a 400mm clearance from the ground. The board is also looking at replacing one of the existing swings with one that has a backing and suitable restraint. 
We discussed potential changes to the play tower with the manufacturer. Changes to the play tower were likely to cost a significant amount and the decision was made not to make this change, at this time. However, we recognise that ideally, the play tower is more accessible and are committed to revisiting this issue when the play tower is up for renewal, to allow for a more inclusive play space.  
The Rodney Local Board is committed to providing quality facilities everyone can enjoy and will continue to support delivery of designs developed to provide for all users of all ages and abilities within their communities. To support this outcome, future public consultations on playgrounds will include a specific question asking for access needs.  
Read some of our favourite playground stories here: